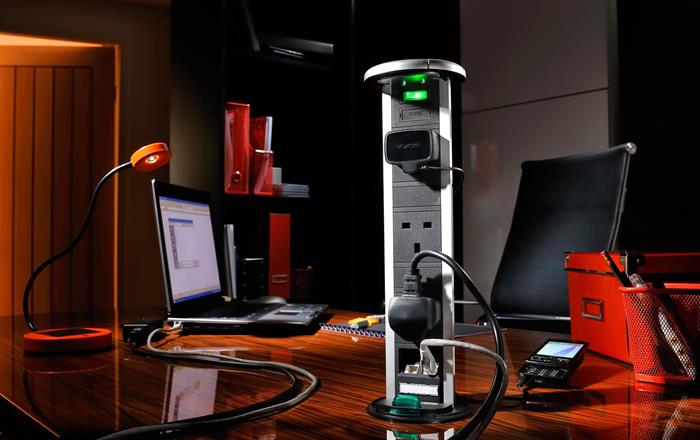 Give your customers' kitchen the power with a SensioPod, which is a three-socket pull-up power solution that also comprises of several other smart, additional design features that make it more than your average retractable socket.
Key features
As well as the traditional power outlets, the SensioPod is also a USB charging station with two USB ports integrated into the product (maximum allowance 2100mA). The really clever thing, however, is that it can be fully retracted even with products still plugged in, which is ideal for keeping surfaces clutter-free from unsightly plugs and cables. Because the SensioPod is fitted within the worktop, it can really add value to spaces and is ideal for open plan living where it's important to have wires and sockets hidden from view. A lot of our customers like to integrate these into centre islands and bar areas where people are likely to sit whilst using a mobile device or laptop.
SensioPod has a nice, sleek profile and an aluminium effect that gives it a modern, contemporary look. It's also very user-friendly with a specially-designed, neat chrome handle that makes it easy to pull the fitting up, and a quick-release catch to ensure it will always close securely. A neon green control switch tells you whether appliances have been switched off when not in use.
Installation & Maintenance
There's lots of flexibility over where the SensioPod can be fitted. Because it's designed to use space efficiently, it can be installed in areas that are often under-used. This flexible space-saving product can be fitted within worktops, on kitchen islands, under cabinets (pull down) or fitted into desks. Plus, it's IP54 rated and designed to withstand splashes too, so there is no need to worry about it being fitted too close to sinks or food prep areas.
Maintaining the SensioPod is easy too - fuses can be replaced without removing the plinth as they are built-in just below the on/off switch.
SensioPod Range
SensioPod+ pull-up socket has all the same features and benefits of the original but with a die cast metal top in a choice of three finishes; Chrome, Black Nickel or Stainless Steel.
SensioPod Eco is an economical option if customers do not require the ability to charge USB devices. This version has three power sockets only with a red neon on/off switch and a quick release catch, which has a plastic top in a matt black finish.
SensioPod DATA is a perfect solution for the home office that has two RJ45 ports for PC/Laptop connectivity. Even if wireless internet is not available, the SensioPod DATA means you can connect your laptop through a home internet router or network.
SensioPod Bluetooth has a built-in Bluetooth speaker that can be used with any Bluetooth-enabled audio device or 3.5mm headphone jack. It is ideal for open plan living with its multi-use functionality – power, Bluetooth and USB.
All the SensioPod product information can be found at https://www.hpponline.co.uk/cat/1119/sensiopod