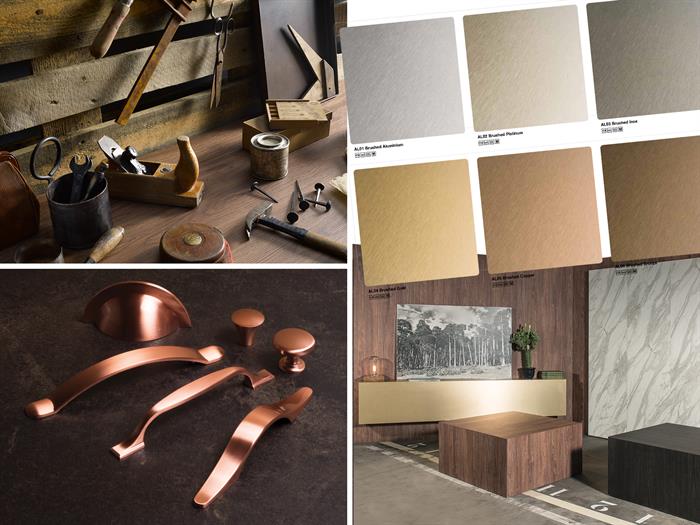 In this month's HPP Blog, Tina Crossley discusses the emerging trends of metallic materials and finishes...
Having a metallic finish to your interior décor is fairly commonplace in today's environment. Gone are the days when metals were viewed as too 'cold' or 'clinical'.
Metal and copper finishes are now seen as fashionably minimalist, cosy and rustic, as well as contemporary; even Apple adopted the trend, releasing their 2014 iPhones in gold shades and tones. So, in line with the release of our own metallic surfaces in the form of the Kronospan Trends 16/17 Collection, this blog takes a look at just how metals can transform your home and really create a 'wow' factor…
Using metal, copper especially, to decorate interior spaces goes as far back as the medieval period; uninspiring copper kitchens and bathtubs are probably springing to mind at this point, but nowadays, that couldn't be any farther from the truth.
Metallic surfaces add a whole new level of design, detail and interest to a living space, adding flair and style that is unique to most things currently in the market.
We've seen metallic finishes in handle design for many years but these are now being supported with a huge surge in demand for metallic appliances, light fittings and even metallised fabrics, which complement other pieces within the space and add a more cohesive feel to the design.
But the trend doesn't stop there either.
MFC board is now seeing a huge overhaul of its ranges, with the introduction of stunning new metallic faced boards that are vibrant, full of character and interesting to see and feel. A range of these are new to the market from the Kronospan Trends 16/17 Collection, and have the benefit of reduced dulling on saw blades and extremely clean, accurate cuts when installing.
We've seen metallic surfaces being used in the most unusual of places to add the finishing touches to the most contemporary of homes, and it's not just with predictable warm shades either… Cool metals such as aluminium, platinum, and steel are great for fulfilling a contemporary and minimalist design. Steel brushed staircases, aluminium shower curtains, platinum feature walls: metallic surfaces complement contemporary design like no other material.
But of course, metallic surfaces aren't only for the minimalist and contemporary. Warmer colours can transform any kitchen, living room, or even bedroom, into a cosy space. Covering a mantelpiece in bronze, copper, or gold instantly warms any room, and is perfect if you have a roaring fire burning. Adding smaller detailed metallic surfaces throughout bedroom spaces also gives a much warmer feel to the room, reflecting warm light on surfaces such as lamp stands, bookshelves, or decorative trinkets.
Metallic surfaces are also great for creating rustic looks, especially in country-style kitchens. Any metal, but especially coppers and bronzes, give kitchens a rustic flair when kept muted and natural. And traditional style kitchens aren't complete until they've got some suitably rustic handles - check out our handles selection which is very shortly to be doubled in size to give an even greater choice.
Minimalist, characterful, rustic or contemporary: isn't it time you introduced some metallic design flair into your installations?