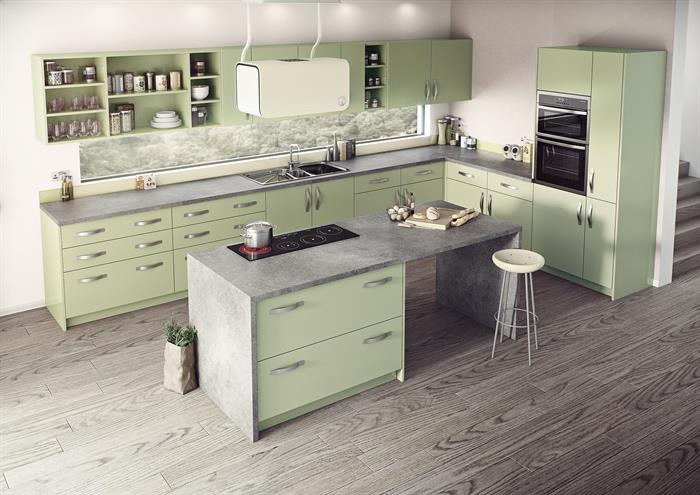 A look at the difference between PVC edged, vinyl wrapped and painted doors for kitchens, bedrooms, offices and bathrooms.
Cabinet doors are key to the look and feel of kitchens, bedrooms and offices. They are the first thing that the eye is drawn to so need to look good, be durable, hard-wearing and resilient to everyday wear and tear.
When it comes to finding the right style and material there is a lot to choose from, which is why we decided to outline the most popular choices and applications in the industry.
Vinyl-wrapped:
Vinyl-wrapped doors are made from MDF panels that are cut and profiled as required, then glued and covered with vinyl.
Because the vinyl goes all the way around the door, it provides a nice neat finish, as there are no distracting joints to see. They are also versatile as the MDF panels that the vinyl is attached to can be designed and routed to lots of different profiles, from contemporary-look flat doors to more traditional themes and styles.
Vinyl can, of course, come in a huge variety of colours and textures (gloss, woodgrains, matt and even mirrored) giving customers an outstanding selection of colours and combinations to choose from.
Vinyl-wrapped doors are a very popular and economical choice.
Vinyl is durable and made to last - it's also designed to be scratch and chip resistant, keep out moisture (especially important in kitchens), can be wiped clean and never needs repainting.
Look out for poor quality vinyl wrapped doors that can have an 'orange peel' like finish. If heat or moisture penetrates the seam at the back (where the vinyl meets the MDF) it can cause the vinyl to peel, so it's always a good idea to buy from a manufacturer you can trust that uses the best possible products in the manufacturing process.
PVC-edged:
PVC-edged doors are made using MFC (melamine faced chipboard) with a matching PVC edging.
They give a contemporary look and are available in a large range of colours, different wood grain effects and textures – giving flexibility and variety.
These doors are probably the most durable cabinet doors available, as the edges, often the weakest area of the MFC, are covered in PVC and so prevents chipping.
They also do not require varnishing or repainting, and are ideal for high traffic areas such as kitchens and bathrooms as they can be easily cleaned, meaning they deal with the many tasks daily life throw at them effortlessly.
PVC edged doors are usually the most economical choice within the range of doors available and make an affordable option whatever the budget. They also do their bit for the environment too as MFC is a sustainable wood based product, meaning your cabon footprint per installation will be reduced. One thing to be aware of is that the quality and finish of the edging can vary from one manufacturer to another. Sometimes the edges can be visible especially in a light glossy colour if not manufactured to a high standard, so make sure to use a manufacturer you can trust.
Painted doors:
Painted cabinet doors offer a wide range of design options and provide truly customised finishes.
One of the many advantages of painted doors is the choice and flexibility that they provide – they are available in an almost unlimited range of colours, textures and design options, making them a popular option for both modern and traditional applications. Also, by using a colour matching service, your customers can achieve a bespoke and personalised design that will not be seen anywhere else.
This exclusivity is another big advantage for those looking to achieve a custom and premium look and feel, on top of the fact that painted doors often have smoother finishes, and non-fading, non-yellowing and offer more uniform textures.
Painted doors don't tend to chip easily either, although wear might be more visible on lighter colours, which is an important factor to consider at specification stage. Don't be put off though, as unlike many doors within the market, stains and smudges can be easily touched-up and repaired.
Painted doors do however come with a higher than average price tag due to the work involved in the process, which is why they are normally considered a higher end product than most mass-manufactured items.
With careful selection and professional help from the experts at HPP, any of these options can help you to create the style and design of your choice.
For more information on HPP's door range please visit the website: