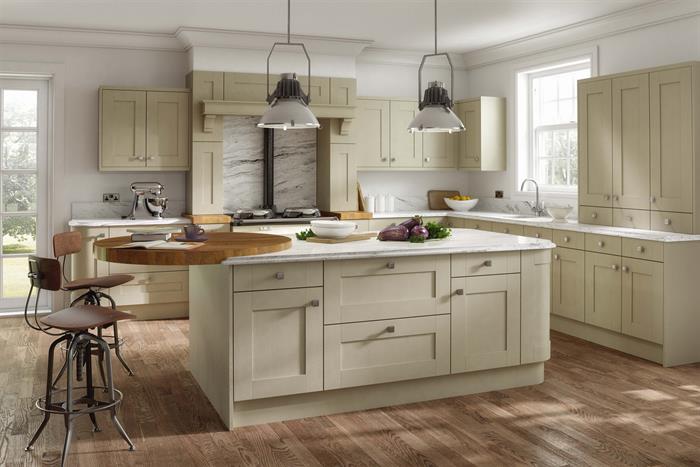 Open plan living just seems to keep on growing in popularity, and why not. It creates a more sociable space, a more flexible living environment and a much better way of introducing light into your home.
But with this open plan scheme comes some challenges, such as storage. Where walls once would have existed to house shelves and cupboards, open expanses are visible instead, so this has brought about the need for some rather intelligent and space efficient storage designs, as well as a raft of new storage products and solutions that are more space efficient than ever before.
The key to effective storage in an open plan living kitchen is a well thought out design that utilises the space well, whilst ensuring the finished look isn't detracted from.
Space planning really does come into its own here, as the golden triangle has to be optimised, along with the right distribution of items such as pots, pans, cutlery and food storage.
A good designer will always look at the needs of the end user, the way they live, cook and use the space around them. This in turn offers an insight into exactly what products need to be integrated into the design, and what items need to be prioritised over others.
Keeping your fridge and dry foods within easy reach of your cooker just makes good sense, as does having your sink handy for draining hot pans or washing salad, so this should be built into the design, whether that's by using specially manufactured pan drawers, chef's pantry's or tall larder units, or another similar solution.
Drawers provide a much more ordered and usable space than many cupboards, so these provide a perfect solution to lots of smaller, fiddly items. Pans, cutlery, plates and dishes can all be stored neatly within a drawer unit, making them easy to access, and easy to organise too.
Split drawers, also known as a drawer within a drawer, offer a great use of space, as what would quite often be a wasted space higher up in the unit, becomes a perfectly usable, well organised compartment for smaller items such as tea towels, oven gloves or cutlery.
More modern drawers are now made to carry larger weights too, as are wirework solutions such as tall larder units and corner units, so sitting a lot of tins, fresh veg or drinks in a unit of this type won't be a problem.
Due to open plan living having little wall space, we are seeing a surge in demand for taller storage units, which maximise the use of what wall space is available, making up for the loss of units which would have otherwise been fitted to an apposing wall.
This makes accessing dry foods and other items quick and easy, and ensures that everything sits neatly within one space, making the experience of using the kitchen much more pleasurable and enjoyable.
Whilst open plan living doesn't lend itself well to clutter, it does lend itself nicely to a few open units or shelves which can be used to display certain items.
Bookshelves are becoming a more popular choice for centre islands and breakfast bars as they offer a handy space for relaxing after a long day, and look great when presented properly.
If space is that little bit tighter than you'd like within an open plan design, free standing furniture also offers a great alternative, as wheels can be incorporated into the design that will bare the weight being placed upon them, whilst allowing the easy movement of that piece of furniture, as well as the contents inside.