It's now been a few months since we launched our 'A Unique Choice' brand, at the heart of which are the visually stunning and informative kitchen and bedroom brochures.
The new brand has been developed to give you inspirational imagery, exciting rooms sets and innovative design concepts that will help show your customers what you can deliver, and to what standards too.
To help you learn a little more about each of the ranges, we're going to be focusing on one kitchen and one bedroom range each month, giving you some juicy insights that might just help encourage your next customer to make that final purchase decision.
If you've not seen a brochure yet, it's easy to request physical copies or download PDF versions by logging into your trade account here: www.hpponline.co.uk/a-unique-choice or call our Sales team on 0161 620 5656.
In this first instalment of these features on the 'A Unique Choice' brand, we're going to focus on the extensive spectrum of options available from the Aspects Bedroom and Kitchen Doors range: a premium, bespoke, made to measure door range that is bang on-trend and bursting with innovative lines that boasts over 100 décors ranging from rustic wood grain textures right through to cutting edge gloss finishes, and pretty much everything in between.
The Aspects Collection is split into five unique ranges: Signature, Shades, Reflections, PerfectSense and Impressions.
Here's a little more about each…
Signature
If high-end texture and luxury is key to your customer, this might just be the range for them. The Aspects Signature range delivers some of the most tactile and visually pleasing materials on the market to date, with highly precise manufacturing processes that deliver texture, quality and finishes like no other.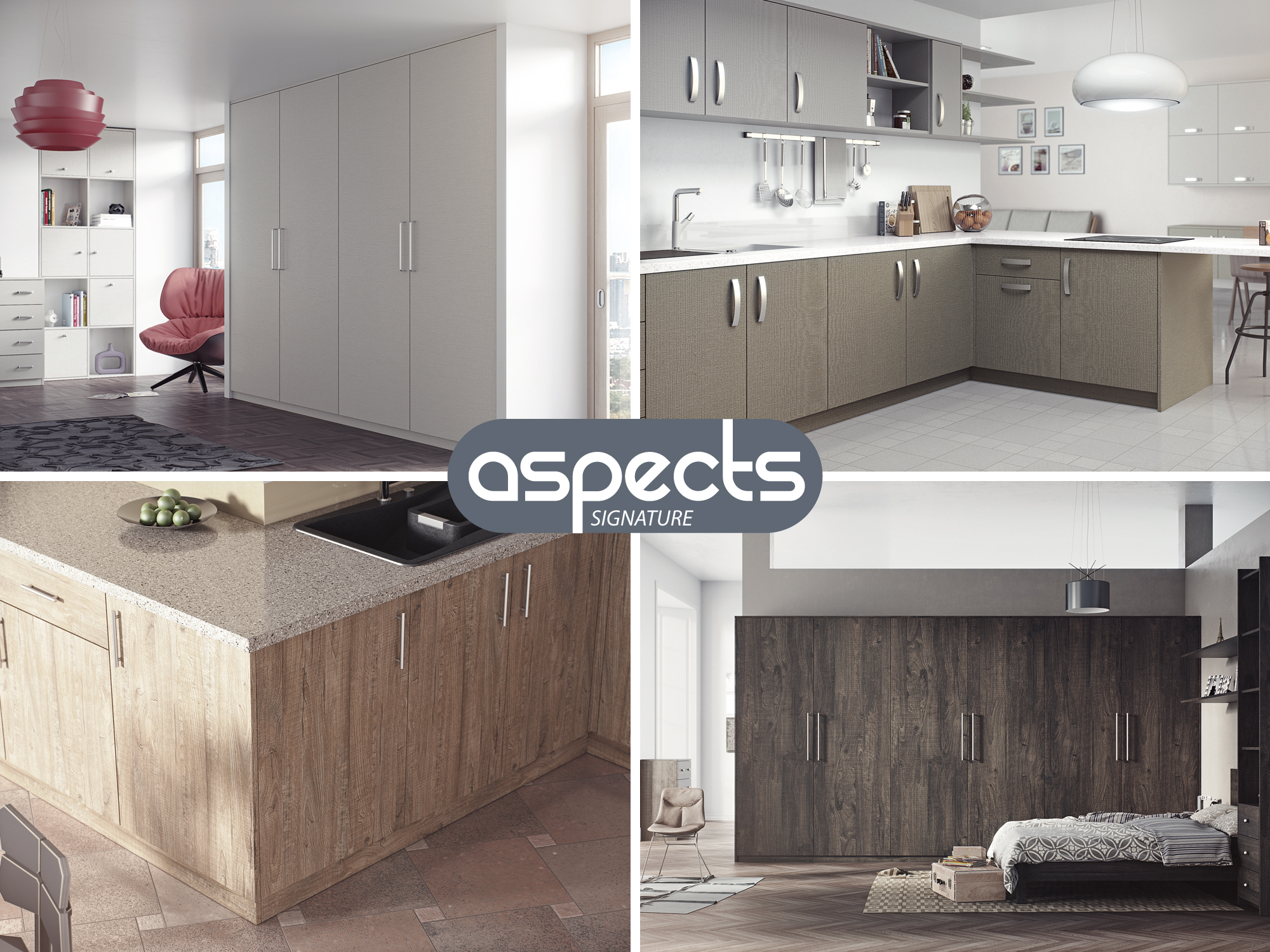 With each door being made to measure, and available in 24 décors, these lend themselves perfectly to a wide range of styles, tastes, and room shapes and come with a reassuring 6-year guarantee.
Shades
Not unlike 50 shades, there are some décors and finishes in this range sure to get your customers hearts racing, as the Aspects Shades collection delivers premium high gloss acrylic door components that have superior scratch resistance and a choice of matching or contrasting PVC edging.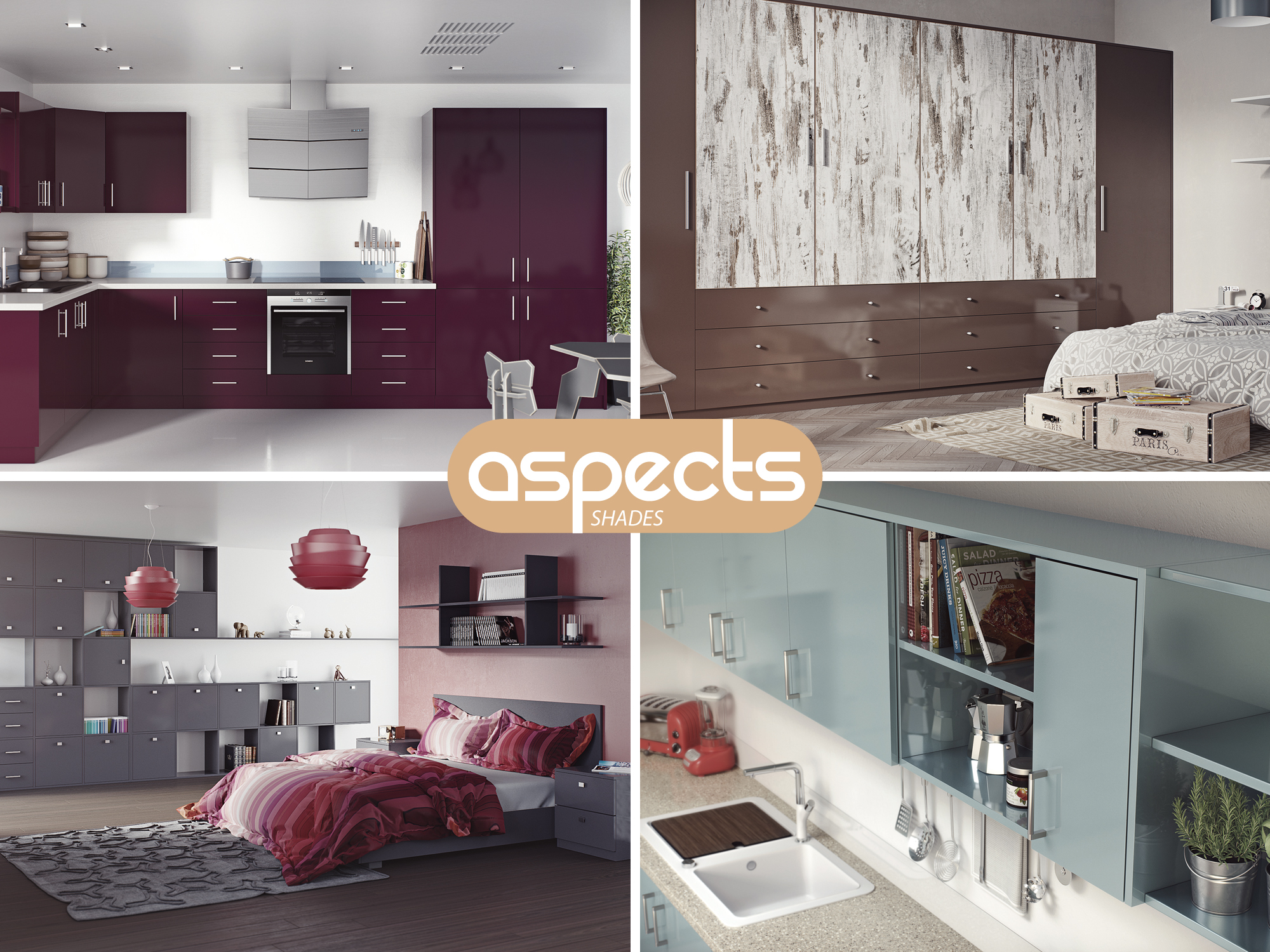 Each Aspects Shades door is made to measure exactly how you need it, and is available on quick turnaround times with hinge hole drilling available, making the install an easier one for you whilst out on site. And of course, this range also comes with our 6-year guarantee, giving you and your customers total peace of mind.
Reflections
If fun and vibrant is part of your next project's brief, Aspects Reflections might just be what you should direct your clients to look at. This stimulating range of doors brings a wealth of premium bold and unique gloss décors, that deliver highly contemporary and on-trend finishes that are exceptionally glossy, setting them apart from many competitors within the market.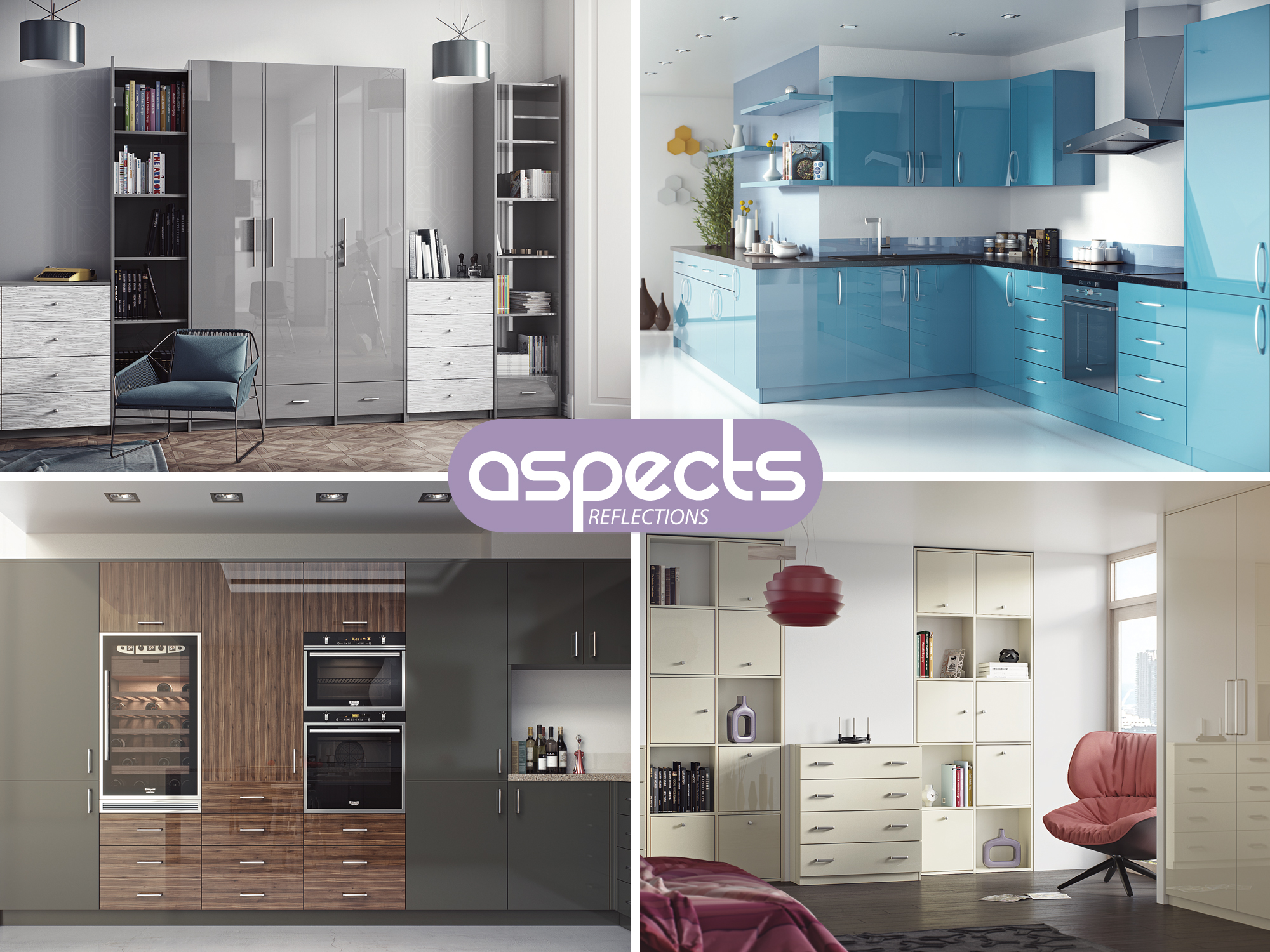 The range has 20 décors to choose from, with everything from vivid Lime Grass and Marmara Blue, right through to smooth and sophisticated Ceylon Macassar and Havana mirror gloss. Each door comes with a 6-year guarantee.
PerfectSense
A perfectly formed collection of Aspects is the PerfectSense range of lacquered doors, which are much more than just your conventional door thanks to a completely new finishing process. The special coating method with UV paint technology enhances the surface look and feel, which was previously only available in certain high-end products.
PerfectSense has an exclusive range of 13 colours to choose from (7 gloss and 6 matt finishes), with each door being made to measure to exacting standards.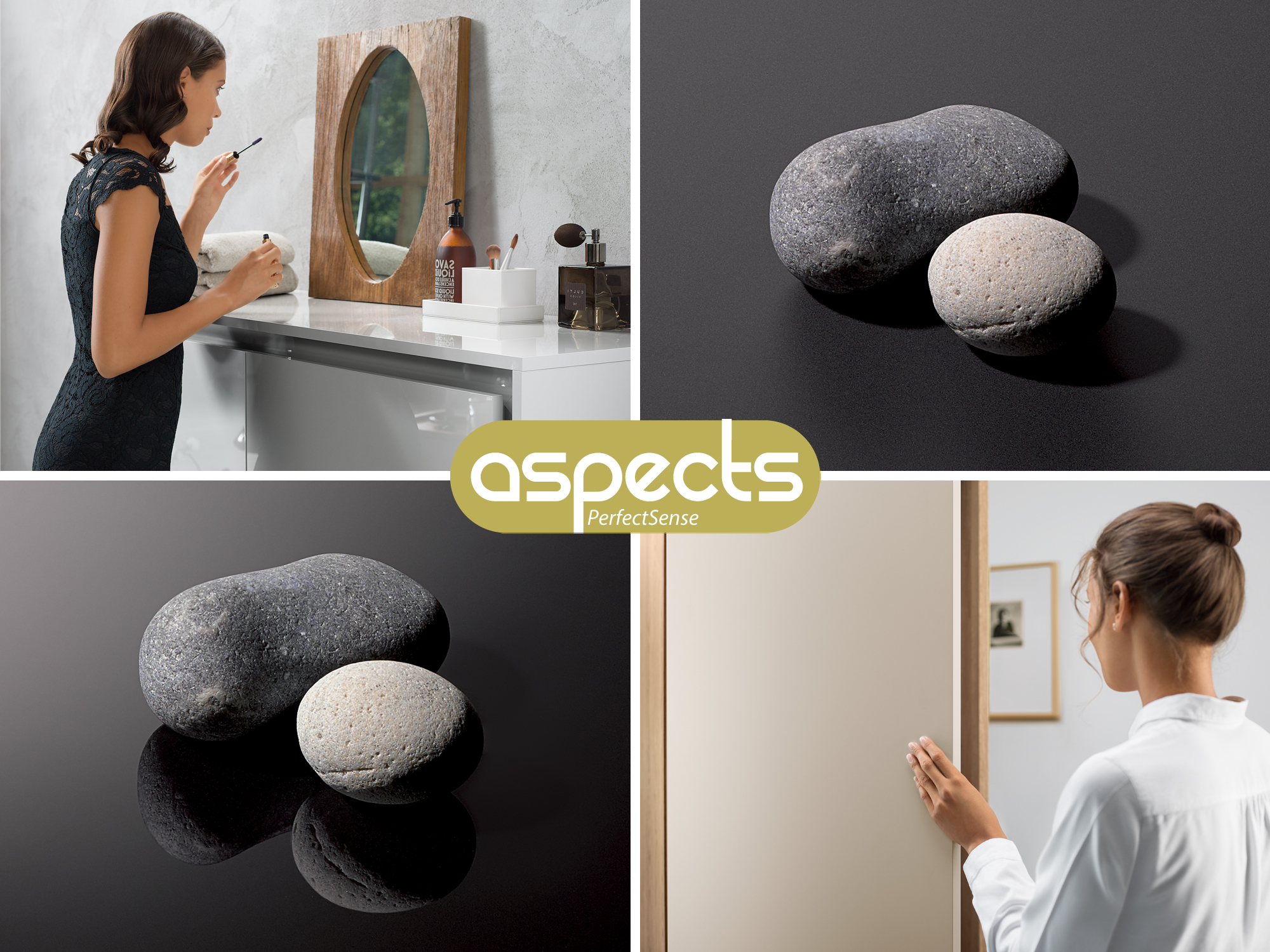 The PerfectSense Gloss range offers some truly premium and striking options: the luxurious finish creates a flawless surface that reflects light and makes spaces look larger. By contrast but by no means a lesser option, is the PerfectSense Matt range. Driven by market demand for muted yet high quality décors, the finish is velvety-smooth and its special No-Fingerprint coating ensures smudges and smears are a thing of the past.
Impressions
If your next kitchen project is all about texture, woodgrain and tactile features, then Impressions is going to do just what you need, and more! The range is packed with realistic woodgrain and grained paint-effect décors, all of which help to build a premium look and feel without the need for a huge budget.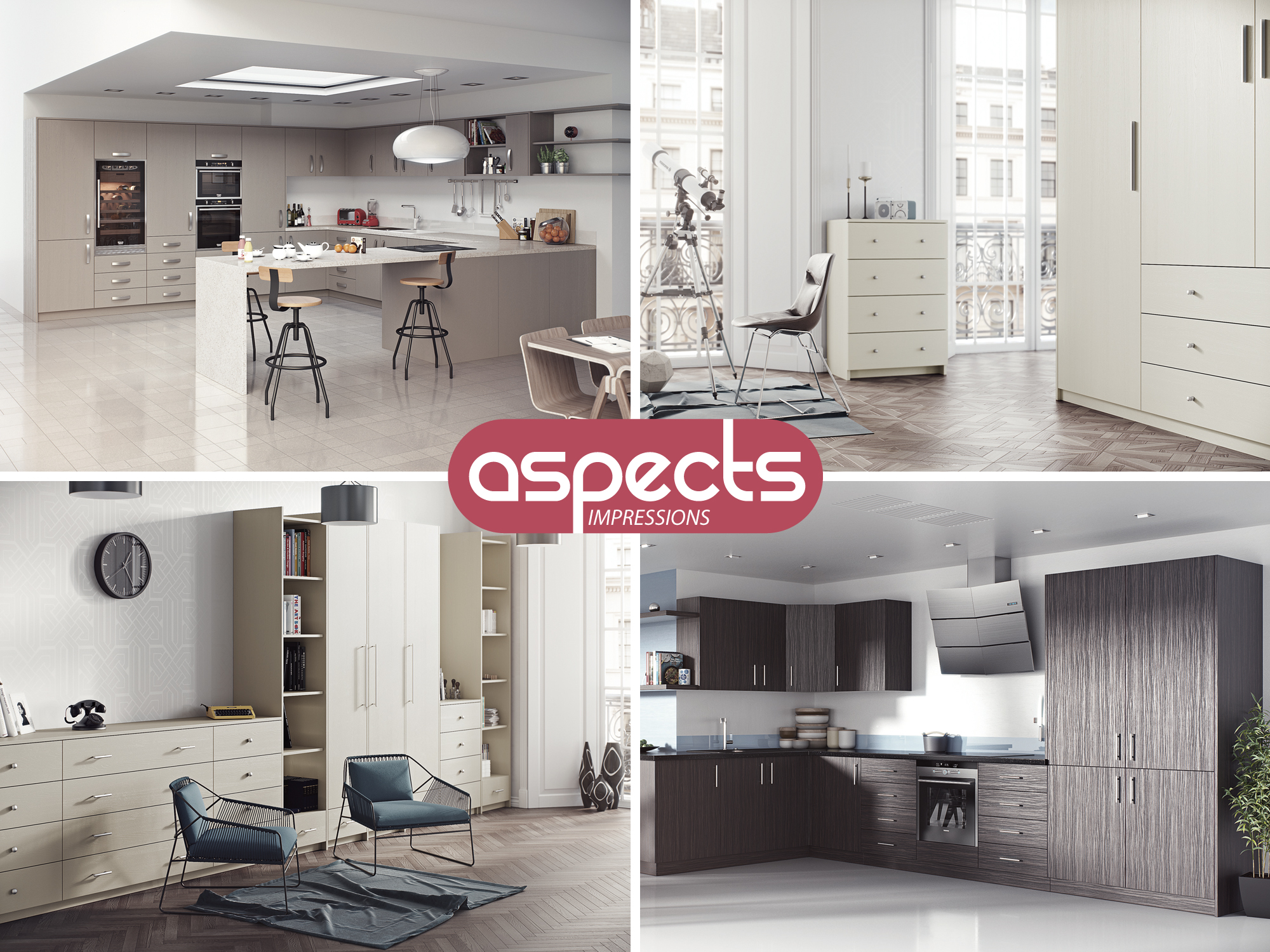 Available in over 35 décors, spanning a wide range of popular timber finishes, Aspects Impressions delivers in terms of quality, reliability and budget, whilst also allowing for inspiring designs and finishes to be achieved, all of which is backed by our 6-year guarantee.
The choice offered by the entire Aspects Doors collection is remarkable: there's a décor finish for every installation style, any client requirement, any budget. Matt, gloss, woodgrain patterned or textured, the range is staggering. The range of door décors, coupled with the HPP 6-year guarantee, makes for a winning combination that should enable you, our trade customers, to seal the sales deal with your clients.