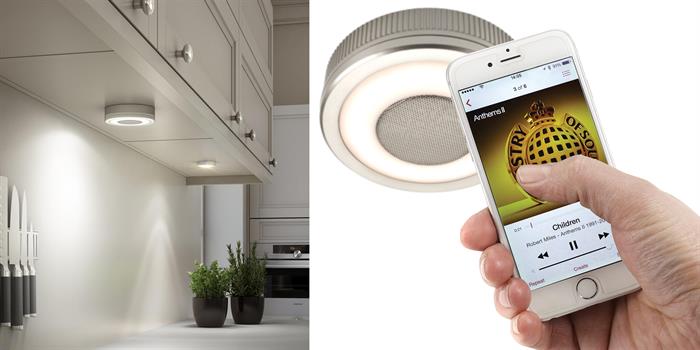 In this month's HPP Blog, Tina Crossley introduces us to music and light, in one compact unit...
If you're looking to create an ambience in your next kitchen project and create a clutter-free environment for your customers, the SensioSound Bluetooth Audio Speaker & Light might just be what you're looking for.
With a 334 lumen LED light and 85dB speaker integrated into one stylish unit, this practical device turns the kitchen into the perfect place to cook or entertain without the need for endless wires, docking stations and separate lighting solutions, as it all ties perfectly into one.
Key Features
Playing your favourite tunes through the speakers is quick and easy. Simply pair the device with a smartphone via Bluetooth and the wireless connection works its magic, allowing your customers to listen to their music and have a clear kitchen counter at the same time.
With an operational range of up to 10m and the ability to pair any smartphone up to two SensioSound speakers means that even if you have the largest of kitchens, these discreet and handy devices are suitable and easy to install.
The frosted lens gives the speaker a diffused light output to add an ambient atmosphere to any kitchen. There is a choice between either cool or warm white LED, and at 12V, it works at a low voltage too, keeping energy consumption at an all-time low.
Installation and maintenance
Installation is a total doddle, simply comprising three screws beneath the outer steel casing, which makes it compatible with any kitchen décor or layout. The unit is mains powered, which means you'll need a 240V supply, but if existing lighting is already in place, these drivers easily connect to a 5A circuit.
At a competitive offer price of just £35.50, a 13-year lamp life and 35,000-hour playback time, the SensioSound is built to last and will make your customers love their kitchens even more!
For full details on the SensioSound Bluetooth Audio Speaker & Light click here.