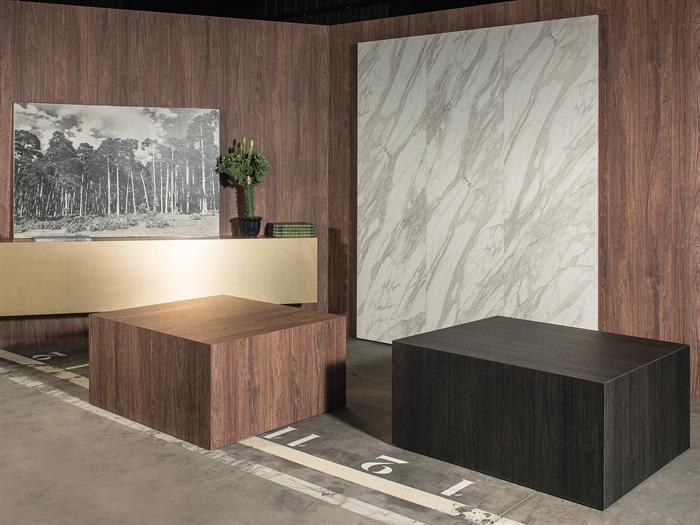 Emerging Trends for 2017
In this month's HPP Blog, Mark Smith gives a rundown of the latest trends expected to impact on the kitchen and bedroom industry in 2017.
Texture:
2016 saw the market really focus on texture in a big way, and texture became as much a consideration as décor colours and styles.
The market for textured board, doors and worktops grew at a faster rate than anyone could have predicted, with designers, installers and consumers all seeing it as a must-have item for new kitchen and bedroom designs.
This rise in demand has brought about some exciting additional innovations to the marketplace, which will inevitably take the industry forward in this area throughout 2017.
We've seen the recent introduction of metallised melamine faced boards that use copper, stainless steel and other metallic surfaces that not only look and feel great, but don't dull blades when being cut. This means some outstanding interior design pieces can be created that are actually practical for the end installer to work with, and great for the consumer to enjoy each and every day.
This is a serious step forward for the industry and one that looks set to bring about some exciting finishes this year.
Lighting:
Lighting is also a huge part of any kitchen or bedroom design these days, and thanks to some pretty impressive developments in LED technology, the choices in 2017 are vast.
We now see everything from LED task lighting, right through to colour-changing mood lighting becoming not only a key part of design but more economical to purchase thanks to improved manufacturing volumes and processes. 2017 will also see the introduction of LED lights that allow the consumer to select from either warm or cool lighting from just the one bulb, rather than having to choose from one bulb type only.
Lighting is so critical in setting the right look, feel and tone of each design, that installers and designers alike are now using this to great effect, and we're pleased to see some latest COB (Chip On Board) lighting technology becoming more common place in the market. This reduces the need for separate transformers / drivers thanks to the chip being part of the fitting. This then allows for a more flexible installation approach, and means retro fitting certain items with the more efficient LED products is a much easier, quicker and more cost effective process.
Automation:
Still linked with lighting, but working on a wider scale too, home automation is becoming a much more important element for designers and installers to carefully consider and read up on during 2017.
The market is seeing an influx of new home automation products such as automated lighting, smart heating that reacts when you're near to your home, wireless AV systems and smart appliances too.
Whilst this is still a relatively new and slightly more expensive area of the KBB market, consumers seem to be warming to the benefits of this area. Therefore, it's important for tradesmen to be aware of clever products such as the SensioSound all-in-one light and Bluetooth speaker, which allows users to play music from their under-cabinet lighting, something we feel works really well in a modern kitchen environment.
Style & Design:
The emerging styles and trends for this coming year seem to be twofold at present, very similar to 2016.
One area of the market is very much all about rustic, tactile and more natural finishes, which is why painted surfaces and heavily textured boards and doors are high on the agenda for most designers; but we're still seeing strong demand for popular slab-fronted doors, albeit with some subtle changes to this contemporary style in the form of matt finishes, ultra high gloss and mirror gloss.
Whatever trends take the lead this year, it's certainly looking set to be an exciting one with some real innovations in production techniques that are giving designers and installers much more scope to create something more bespoke and totally unique.
If you need any advice or inspiration on latest trends and products to help with your next installation, why not pop into our Trade Counter and let our team show you what we've got to offer?