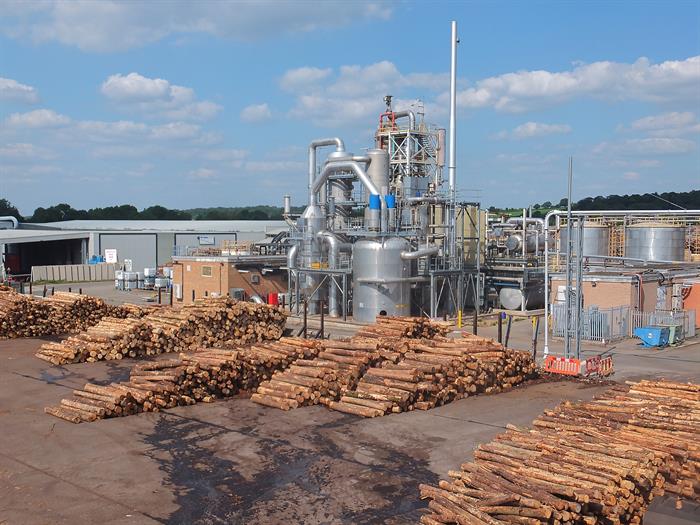 Our marketing team recently ventured out of the office to take a trip to Kronospan's production facility in Chirk, Wrexham.
The main aim of the trip was to learn more about some of their latest developments, new products and ideas, and to get a good feel for just what goes into making some of the most interesting and innovative boards on the market.
The site was a hub of activity, as the company are in the process of re-structuring most of their manufacturing facility to make it more efficient, and more capable to cope with growing demand for their vast range of boards for the KBB and construction markets.
We were first taken to a picturesque old farmhouse which sits in the middle of their huge 150+ acre site, which now houses their meeting rooms and product display suite.
The showroom featured some of the latest product ranges to come out of Kronospan's growing worldwide portfolio, and one that is due for imminent launch being the Trends 16/17 collection, which we'll be making available to all HPP customers in the coming weeks.
We were also taken on a tour of their site to see just what goes into making some of the leading board in the marketplace.
The first thing that caught our interest is how technology has leapt forward in recent years when it comes to recycled material for board.
For many years, recycled material in MFC products was seen as a bad thing due to blade dulling, split-out and so on, but thanks to new technology and intensive cleaning methods (both dry and wet), the Kronospan team were able to show us just how much work goes into ensuring that recycled product going into board is as pure, clean and contamination-free as possible.
It surprised us just what they were able to extract before a product is even started, with things like glass, metal, sand and large wood chippings being taken out at a very early stage, which is reassuring, as it guarantees that each board delivered from HPP will be fit for its application, giving our customers the confidence they need in using any of our products.
Another huge plus is that this more intensive and environmentally aware method of cleaning is helping to reduce our environmental impact thanks for more recycled product being able to be added, which in turn is helping to reduce the amount that goes into landfill, increasing recycling, and ensuring the KBB industry keeps a close eye on reducing the impact we have on our landscape wherever possible.
We also got to take a look at the sizeable manufacturing processes that go into making the likes of MDF and MFC board possible, and when we say the scale was huge, we really mean it... The walk along one production line was enough to work up a sweat!
Seeing the massive £150k plates that create textured woodgrain, the multi-million pound production lines and the hundreds of people that go into making each board as uniform and perfect as the other made us realise just what goes into producing some of the most innovative boards in the industry.
The experience was a great one for our team and gave us the chance to gain a better appreciation of the hard work and effort that goes into each and every Kronospan product.
Photographs: reproduced by kind permission of Jan Ford (https://janfordsworld.blogspot.co.uk)
Related Items