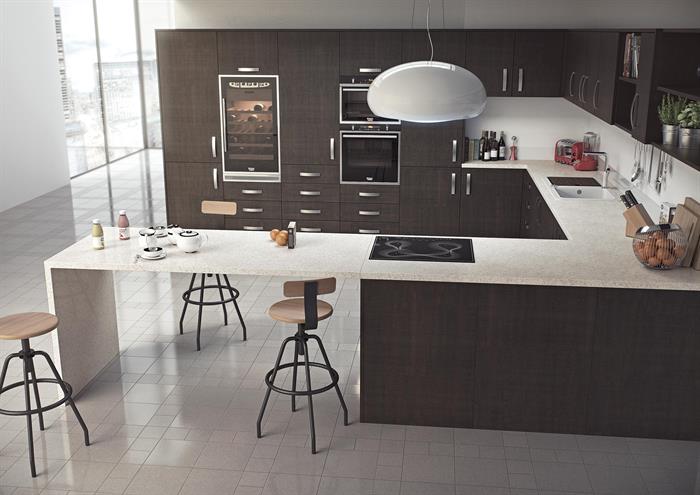 Let's start 2016 with some good news, consumer spending is on the increase, there's a rising demand for new homes, and people are increasingly recognising the value of updating their homes in order to sell them - all positive news for the kitchen trade and retail industry.
The key kitchen trends for 2016 are strong colours, the use of different materials - merging contemporary with traditional styles, 'zones' divided by statement pieces, smart storage, bespoke designs, and personalisation. One big trend for 2016 will be the increase in the use of technology and advanced appliances to create clever storage solutions and smart, integrated 'zonal' living spaces that make kitchens the hub of the home.
Colour
Let's begin with colours and materials. The now well-loved grey and associated muted tones will continue to be a popular choice this year following its popularity in 2015, but we will also see darker grey tones and possibly muted shades of blue and green introduced.
The use of warmer metals like zinc, brass, copper, and bronze will build steadily as an alternative to cooler metals like silver and stainless steel.
As for worktops, technological developments mean that man-made alternatives to granite and marble such as quartz and gemstone worktops are now becoming increasingly popular; especially now that there is a wider variety of colours, textures, and patterns available on the market.
Solid oak worktops will also play a key part for those wanting to achieve either contemporary or traditional looks, thanks to such a wide range of finishes and profiles. Check out our kitchen worktop range here to see our new range, launched at the start of this year.
Bespoke and customised kitchens including flexible sizing and colour matching services are increasingly expected as standard, with the momentum to continue in 2016. Customers want to be able to choose and personalise the colour of their units. Our custom painted door service allows customers to choose colours from popular manufacturers like Farrow and Ball, helping achieve the exact look they require that is unique and personal to them.
Materials
Also predicted to be popular during 2016 is the use of different materials for merging both contemporary and traditional styles. A sleek matt finish kitchen with handleless doors (using Blum's TIP-ON for doors which allow them to be opened with a light touch), combined with a Nordic-style walnut worktop or even a natural oak worktop centre island will combine modern and natural materials well.
Layout
Dividing rooms into 'zones' seems to be the buzzword for 2016 – going beyond the now, well-known concept of open-plan living. Varying materials, styles, and colours can be used to distinguish different zones within the home and kitchen space, but other interesting trends are the use of statement pieces such as islands, metal range hoods, freestanding units, and open shelving – all great for this type of new layout as they can act as room dividers without making the space feel small or crowded. Curved edges on units, larders, and islands create smooth transitions between zones, giving them a more fluid and natural feel, helping to achieve a more flexible living space.
Storage solutions are still an important part of good kitchen design and as we go into 2016, consumers are demanding that they be both cool and clever. Storage is now more 'on show' within the kitchen space, so needs to look good as well as be technically clever and functional. Blum LEGRABOX is an intelligent drawer system featuring the latest runner system technology that gives a smooth close, looks stylish, and has slim drawer sides on the inside and outside, meaning your customers gain the maximum amount of potential drawer space. AMBIA-LINE fits perfectly with LEGRABOX to give stylish, smart storage and organisation solutions where contents are always easy to find.
The merging of technology with the kitchen space is now more popular than ever. High-tech appliances and smart workstations are becoming the norm in many homes, including anything from built-in coffee makers, multi-purpose water taps, ice machines, and hidden charging stations for mobile phones and other devices, right through to automated lighting and smart ovens that can turn themselves on as and when needed.
Technology
There is a huge focus on convenience to meet the needs of the technically-advanced consumer, and we are seeing hidden and integrated appliances being used in designs. LED lighting and auto-controlled devices are also at the forefront of new kitchen design. The SensioSound spotlights go one step further by combining lighting with music played via Bluetooth. These dual-purpose intelligent spotlights are ideal for kitchen-diners and open-plan living spaces as they let you stream music while socialising and cooking; bringing entertainment to the hub of the home as well as providing energy efficient lighting.
It's clear that we'll see some exciting kitchen designs in 2016, using different materials to create a unique and customised look with technology playing a very vital role. Kitchens will continue to be both multi-functional and convenient as they increasingly become the place to eat, work, relax, and entertain within the home.