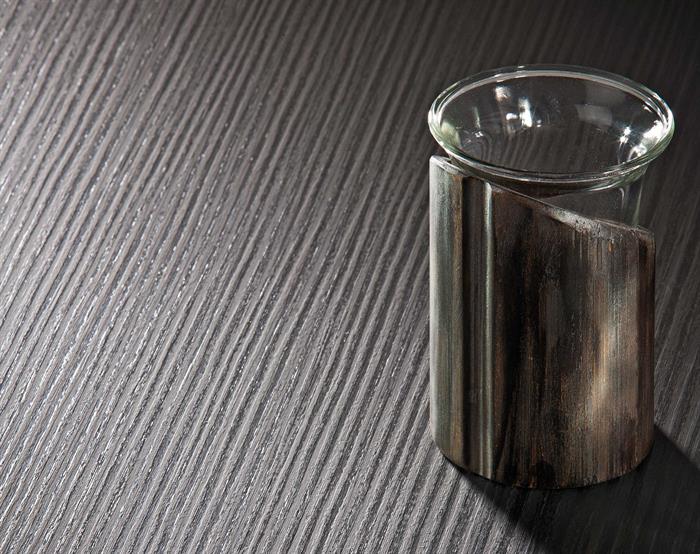 We all know that consumer trends are moving towards a warmer, more tactile finish, but as this shift is taking place, we're also seeing a fantastic movement in the materials manufacturing market, developing products to a newer and more innovative route with textures and finishes that not only get the industry excited, but get consumers' minds working overtime too.
In the last two years alone, we've seen some stunning new products, ranging from highly textured surfaces, ultra smooth, mirror gloss, matt and everything in between; so we thought we'd outline some of the most popular products in the industry at present and illustrate the differences of each.
Gloss Finishes
Since the introduction of the contemporary gloss white kitchen, we've seen some real developments in this area to provide consumers with even better, more stunning gloss finishes that are durable and scratch resistant.
Now available as acrylic or PVC gloss finishes, consumers can select from a wide range of popular colours from leading brands such as Kronospan, Finsa, Pfleiderer, Egger and Décor Panels. With new colours and tones available, gloss is now not only appealing to the contemporary market, but also to those leaning more towards a traditional look and feel too, giving it a wider, all-round appeal.
Gloss is great for creating a sense of openness and flow, and helps to create the illusion of more space in smaller kitchen designs. It also helps to bounce light around the room, making the most of any natural daylight that is available.
Maintenance is easy with these products too, but fingerprints do show up more easily than non-gloss alternatives, so this is always worth baring in mind when designing for a busy family home.
Matt Finishes
As an increasingly popular alternative to gloss finishes, consumers are starting to demand more in terms of texture and feel, which is where a matt finish is coming into its own within the industry.
Whilst not currently as popular as gloss, demand for matt finishes is without doubt increasing, and becoming a more popular choice for those wanting something more innovative and unique for their kitchens and bedrooms.
Usually manufactured with a polyurethane painted surface, matt finish furniture generates an extremely smooth yet hardwearing surface that has a certain air of quality and sophistication to it.
The décor is relatively new to the market and appears to be very popular and certainly in demand. This looks set to continue for the longer term.
Registered Embossed
Registered embossed materials provide a sophisticated feel that is perfect for creating a high value and elegant look. Materials generate life-like knots, blemishes and grains in wood patterns to give a premium feel, and are perfectly suited to both mid-market and high-end installations.
Available as Egger Feelwood and Kronospan Natural Touch, both ranges are becoming increasingly popular for consumers, as they want a more rustic, homely, warm feeling to their kitchen, bedroom and bathroom installations.
The registered embossed materials are a real step up from standard MFC products as they add a feeling of quality and prestige. They do cost a little more than the traditional MFC products, but are becoming somewhat of an industry standard for many trade customers as the benefits significantly outweigh the drawbacks.
Highly Textured Thermo-structured board
The next step up from registered embossed MFC is the premium XyloCleaf range of thermo-structured boards; currently available to buy as full sheet material and also as part of the HPP Aspects Doors Range
The product uses unique thermal manufacturing processes to generate extremely deep and intricate textures that are difficult to distinguish from the real material it is designed to mimic.
Available in a wide range of life-like wood grains, linens and other unique materials for both kitchen and bedroom applications, these are becoming a very popular choice within the industry thanks to the great finished effect that can be achieved and the sheer durability and chemical resistance of the product.
The range does come with a slightly higher price tag, which is more in line with the premium end of the market, but the end result more than compensates for this price difference as the material is very unique and individual to each design.
Mirror Finish Gloss
Created to add a little 'wow-factor' to any kitchen or bedroom design, the mirror gloss range, which is primarily available from the Kronospan range, offers a superior mirror gloss finish that gives a premium appearance, as well as an extremely hard wearing surface, making them not only great for the design of any kitchen or bedroom, but also highly practical for any situation.
These products are great for spaces large and small, as they bounce light around and help to create a true feeling of open plan, contemporary living. Maintenance is relatively hassle free with these products too, but as with the high gloss range, fingerprints do tend to show more quickly on these products in comparison to ranges such as the matt or textured products, so sometimes aren't the most suitable for busy family life.
See the full range of full sheet and cut and edged materials available from HPP here
Related Items