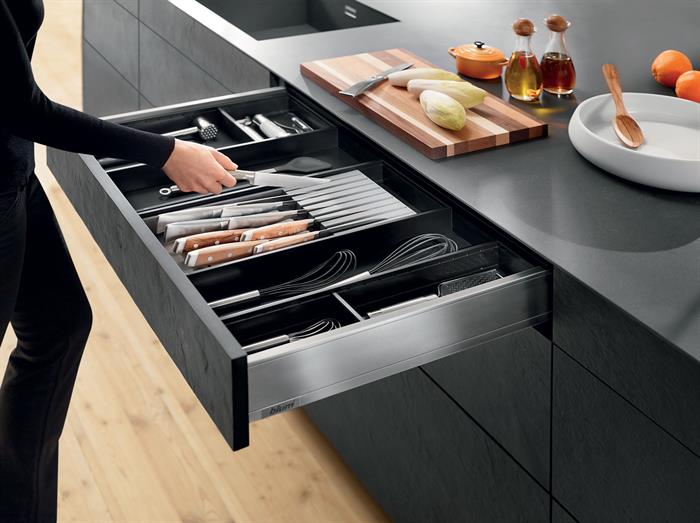 We're excited about the fact that we now stock the new Blum LEGRABOX intelligent drawer system. It features the latest runner system technology that gives a really smooth, effortless and quality feel. They can be used in almost any setting, including kitchens, bedrooms, home offices, bathrooms and even dining areas, and its multipurpose function and stylish look means that installers and designers can see its obvious attraction.
How it works
LEGRABOX uses new runner system technology with cogs instead of ball bearings. The new motion technology is integrated into the roller carriage, which means that the opening and closing action is smooth and robust. A feature of LEGRABOX that we really like is the very clever BLUMOTION soft close that adapts to different weights and closing forces to give a close that is consistently silent.
Specification & benefits
One of the many other benefits of LEGRABOX is its ability to withstand heavy loads with an impressive carrying capacity of 40kg and 70kg. Even with this higher than average carrying capacity, increased stability along the length of the runner and a new front-fixing bracket guarantees a seamless running action.
LEGRABOX comes in five drawer heights - N - 66.5mm, M - 90.5 mm, K - 128.5mm, C - 177 mm and F - 241 mm. The five drawer heights mean they can be easily integrated into kitchens, bedrooms, home offices, bathrooms and dining areas, making it a really versatile product for your customers.
The LEGRABOX has very slim 12.7mm drawer sides on the inside and outside which means your customers can have the maximum amount of drawer space. That's really handy when you're working on projects where space is limited.
It's available in two colours - Orion gray and brushed stainless steel, contemporary shades that blend well with a diverse range of product styles and colours. The design has certainly not been compromised by the advanced technology and brilliant functionality of this product.
Organised, sleek and tidy drawers can be easily achieved using the AMBIA-LINE inner dividing system. AMBIA-LINE fits perfectly with LEGRABOX to give you smart and stylish storage and organisation solutions where contents are always easy to find.
The system can also be upgraded with the popular 'touch opening' feature and with its matching organisation options it can be implemented in more than one area of the home - ensuring the same style flows throughout the home space.
Installation & adjustment
Because LEGRABOX has fewer parts, it's surprisingly easy to order and assemble. The three-dimensional adjustment mechanism is fully integrated and modifications to the height, side and tilt can be made with one tool, a T20 TORX driver.
The entire LEGRABOX range is available on the HPP website, and selected items are on display in our trade counters. You can also see the range in action by watching the official Blum video here:
Take a look - you won't be disappointed!
Related Items