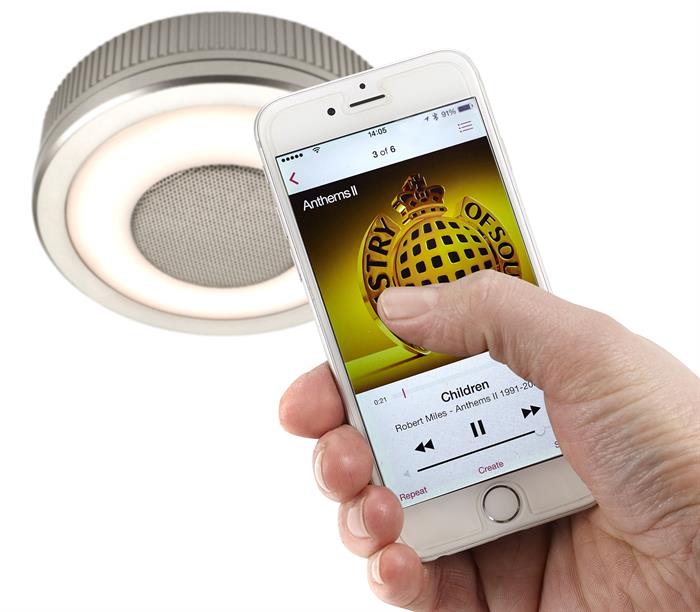 Music fans and people who like clutter-free surfaces will love the new SensioSound spotlights - intelligent under-cabinet LED spotlights that create a great ambience by combining lighting with music played via Bluetooth. These dual-purpose intelligent spotlights are ideal for kitchen-diners and open-plan living spaces because they allow for streaming of music while socialising and cooking; bringing entertainment to the hub of the home for your customers.
How it works
The really clever thing about SensioSound is that it's an LED spotlight with a Bluetooth audio speaker already built-in. All you have to do is search for 'SensioSound' on your mobile Bluetooth device and connect wirelessly. Once connected, you can then select any music of your choice (from music stored on the device, music online or even live radio), which can then be played via these stylish spotlights.
Key features
The audio function has not compromised lighting power; in fact, SensioSound spots are brighter than the average Sensio spotlights, with a high light output of 334 lm.
It has no visible wires or boxes as the Bluetooth speaker is integrated into the product, which means it's a neat and streamlined lighting option for any modern kitchen.
SensioSound has a stylish stainless steel finish too, with two LED colour options - cool and warm white. It's integrated heat-sync feature and frosted lens gives a soft light with a beam angle of 120° making this a contemporary must-have kitchen accessory for many consumers.
It's easy to use and very compatible with various devices as it works by using Bluetooth connectivity and can be controlled from up to 10m. Another big plus is that SensioSound can be paired (providing they are powered by individual drivers) so that two play at the same time - giving a room with an all-round stereo experience.
SensioSound can help create a tidy kitchen - there is no more need to have laptops, radios and other music devices cluttering up work surfaces.
This exciting multi-functional product has an extensive lamp life of 13 years and a low power consumption of only 8w (doing its bit for the environment). Using less power means, less energy and lower costs, helping consumers with their energy bills.
How to install
Installation is hassle-free via a service-mounted fixing. All you need is a SensioSound fitting, 12V driver and a mobile device with Bluetooth enabled.
SensioSound is a simple and smart piece of equipment that is perfect for consumers' modern way of living - great for socialising, entertaining and dining with friends and family.
Visit SensioSound at HPPOnline for more information and to order the new SensioSound product now!
Related Items