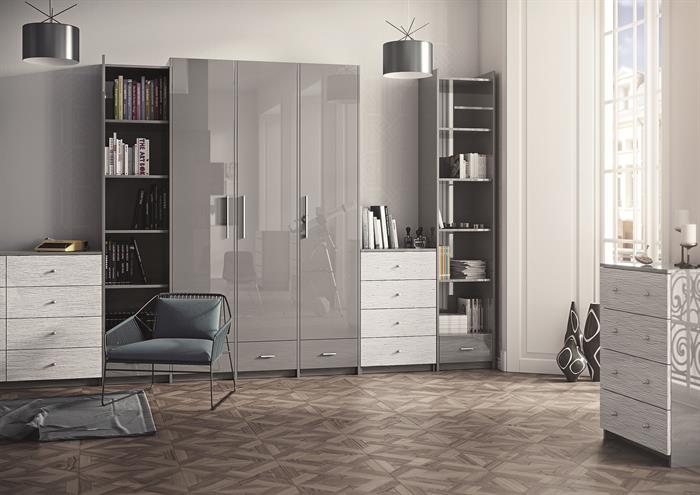 Creating a home office within a bedroom space takes quite a lot of planning and consideration to get things absolutely right.
The first thing to consider is that the customer who's asking to have their home office situated within their bedroom space needs the room to act in a number of ways, not only as a functional home office, but most importantly, as a relaxing bedroom space to unwind and chill out in without the thought of work, bills or general office related stress.
For this reason, it's important to try to make a bedroom home office as hidden as possible, allowing your customer to hide away work and enjoy the space as a home environment too.
This often entails hiding the office environment behind a set of wardrobe doors, whether that's through sliding, glass, wooden or acrylic wardrobe doors, you get the idea; it's best to tuck them away, giving your customers the separation they need from work and home.
The other thing to consider is that whilst the office is tucked away in a relatively small and somewhat cramped space, it still needs to work really well as a home office. This is where the selection of certain products, their placement and installation is key.
The first place to start is organisation. Without the proper shelving, desk area, keyboard and mouse platform, drawer, wirework and general storage for your computer tower, laptop and even printer, the home office won't work well.
Once the above storage issues are addressed, it's then a good idea to consider lighting as one of the next key issues to be tackled, as these types of home office often have areas where shadows are cast or dark spots unavoidable (or so people think!).
By fitting some bright and energy efficient LED self adhesive strip lights within the space, it will make the environment comfortable and also safe for continued use by your customer, without running costs going through the ceiling.
This LED lighting can provide task lighting within the main desk area of the space whilst also creating pleasant backlighting that helps to mimic the effect of having a window without any obstructions right in front of you.
Once all the above is addressed and completed, it's paramount to make sure you're using the right doors and door components.
Hinges that provide maximum accessibility are absolutely key, so it's a great idea to spec the best hinges for the job right at the beginning, and consider adding a few extra hinge holes to your door spec to ensure it's robust and capable of taking a lot of use on a daily basis.
By following the main steps above, you can be fairly confident your next bedroom home office customer will be more than satisfied with the outcome of the project. To find out more about suitable HPP products for this type of project, please check out our doors, wirework, lighting and accessories sections of our website.
Related Items