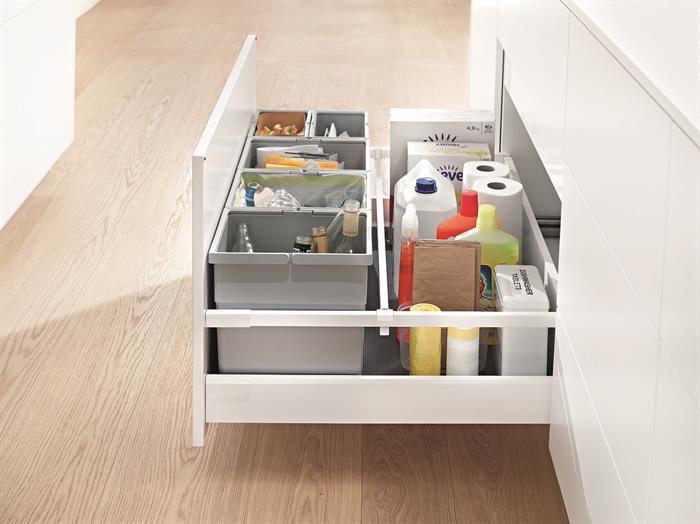 It's the age-old question we all long to find the perfect answer for - how do we make the space work harder for our customers.
Well thankfully, our friends at Blum have come up with a superb solution to this question that not only works great, but also functions beautifully whilst looking luxurious and feels of a very high quality.
The new Antaro range of drawer runners provide a more compact design, meaning that up to 50% more space is available within the drawer unit than a typical 'standard issue' drawer unit.
The new space saving solution means that not only can more items be stored safely and neatly out of sight, but it also allows for a unique hidden drawer system by Blum, allowing you to visually have fewer drawers on the outside, but once opened, additional units are accessible, holding smaller items in a well structured and orderly fashion.
Whilst there's lots of emphasis placed on the look of the products (they do look fantastic), the functionality hasn't been ignored either. The units open and close smoothly thanks to the Blum BLUMOTION technology, allowing drawers to close silently even when excessive force is used.
Different combinations and formations are available too, meaning that the drawer unit can work anywhere in the home, and offer solutions to tricky areas such as under kitchen and bathroom sink areas.
The system is compatible with the ORGA-LINE range of Blum products too, meaning that organising and compartmentalising parts of your home storage is easy to achieve.
The products were easy to assemble and enjoyable to use, and are great value for money considering the engineering and quality of craftsmanship involved. To see them in action, why not visit one of our trade counters or view the video online.
Related Items