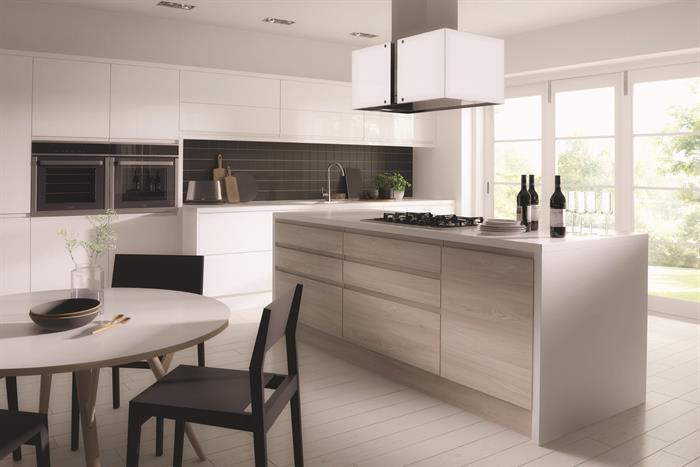 Contemporary kitchen design is still a very popular choice for the UK consumer and experience in this market sector over the years has seen a number of key trends emerging which highlights consumers' key needs, wants and desires for their ultimate contemporary kitchen.
We thought we'd highlight 15 key points for creating the ultimate contemporary consumer kitchen.
High Gloss
It goes without saying that high gloss is an absolute must for starting a contemporary kitchen. High gloss adds that cool, modern look and feel, and gives the space a clean uncluttered look; so make sure to include this in your next contemporary kitchen design.
Fit an Island
Open plan living is huge at present, not only for contemporary kitchens but most consumer kitchen updates and refits no matter what the style. Fitting a centre island helps to maintain an open plan feel whilst also helping to define the various zones within the living space and makes a great focal point for entertaining, preparing food and socialising.
Combine Colours
With the progression of high gloss decors, consumers can now select from a staggering range of colours. Combining two or more colours, usually with white acting as a base, contemporary kitchens can be created with a real wow factor and sense of individuality and personality, helping create a real sense of bespoke luxury.
Add a little curve appeal
Curves are growing in popularity as they become more readily available and accessible to the typical UK consumer. Adding curves to both base and wall unit design helps to create a more fluid, modern feel that allows the overall open plan living space to flow much easier.
Introduce Light
A key element of contemporary living is to introduce plenty of light to the design. The more natural daylight the better, so if sky lights, larger windows or folding patio doors are possible, make sure to incorporate them, otherwise, try using LED and low energy lighting to create a similar effect.
Use interesting finishes
The type of board available has come a long way in recent years so it's always a good idea to use a format that's slightly more unique and luxurious in the consumer's eyes. Wood grain effect boards, stainless steel and even concrete worktops can be great options for making the kitchen seem more unique and interesting.
Light up their world
Paramount to any kitchen design is a quality lighting scheme that serves a number of purposes. With contemporary kitchens, weird and wonderful lighting schemes can be developed that support the colour scheme of the kitchen design as well as setting different moods from task lighting to low level relaxing schemes and everything in between!
Triple lights
No matter where you look at the moment consumers are demanding and are being advised to choose triple lights over their islands and breakfast bars. These help create a focal point as well as useful task lighting.
Invest in clever storage
To achieve a real contemporary look the kitchen needs to be totally clutter free, so ensuring clever storage ideas are in place to keep clutter off the counter tops is paramount.
Built in appliances
Built in appliances help in ensuring lines are sleek, streamlined and fluid, so building in appliances behind a matching cabinet door helps to bring a cool contemporary look that is uninterrupted in its approach.
Contrast Old with New
If your next customer is fortunate enough to live in an old property with real character and charm, combining the original features of the building with the new contemporary look kitchen can achieve a stunning combination of old and new that adds to the contemporary look and feel to make it even more effective.
Invest in Energy Efficient Lighting
Investing in LED lighting and low voltage lighting is key to keep your customers' energy bills and carbon footprint to a minimum. Specifying the right lighting at the start of the project not only helps make the process run smoothly, but also helps create a contemporary look using the latest lighting technology available.
Make it SMART
Smart home technology is a growing area in the KBB industry as it allows for the automation of many elements such as lighting and heating, and even enables the automation of your cooker and other appliances from your smart phone, so to achieve truly leading contemporary kitchen design, SMART technology is a great route.
Create a feature
Having a central focal point to the space is key in creating the right impression, so the use of designer hoods, sinks or centre islands can often act as a key feature to draw the eye in the finished kitchen design. If space allows it, consider integrating a large, double sided open fire that brings the kitchen and dining space together.
Create a streamlined look
One key component of contemporary is a streamlined look. The use of handles on door and drawer units can often break this visual up, so consider handleless furniture, with either hidden handles or 'push-to-open' fittings that control the door from the internal of the cabinet either electronically or mechanically.