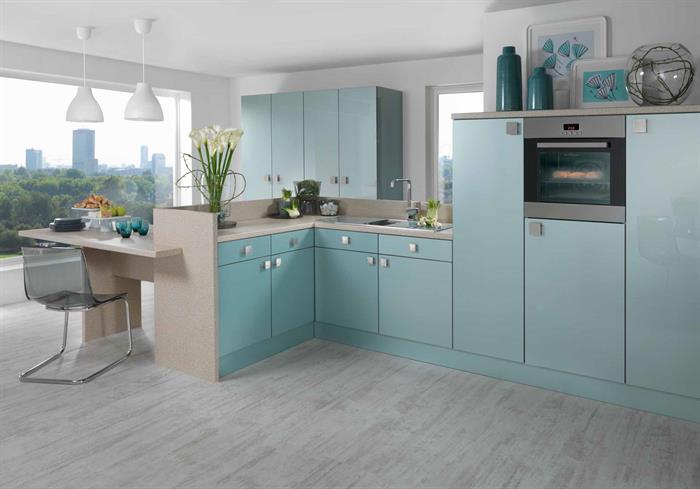 Creating the perfect kitchen and living space often comes down to a clever design that helps each area of the home work together in harmony, without any awkward transitions or junctions that makes the spaces feel separate. This is one of the biggest reasons that demand for bespoke integrated kitchen furniture is becoming so popular within the industry, and often demanded by the consumer.
We're now seeing combinations of fitted furniture in living spaces that mimic the materials used within the kitchen design. This can often be a seated breakfast or dining area that joins onto the kitchen space, or something as simple as a country style dresser or entertainment unit; all of which would be made from the same materials as the kitchen in order to create a cohesive feel to the space.
With work and study playing a greater role in the modern UK consumers' lifestyle, integrated office and desk areas are also being incorporated into living spaces whilst being made out of the same materials as the kitchen to create one succinct, and well harmonised living space for the consumer to move through freely allowing them to feel truly at home.
The usage of styles, materials, colours and applications for fitted furniture varies massively from one design to another, as each is often built bespoke to how the consumer wants to live, and how they want the space to work for them and their lifestyle. With new materials such as precision embossed board and new innovative styles such as oak effect and mirror gloss, consumer demand is likely to increase thanks to the release of these innovative materials and finishes.
The concept behind bespoke fitted furniture is great for the consumer, as they don't have to buy off-the-shelf products that prevent them from using the space exactly how they anticipated. By going down the bespoke route, the consumer is able to specify to their kitchen or interior designer the exact format they would like, including storage, hidden compartments, design features, right down to details such as the type of drawer or hinge units that might be incorporated into the finished item.
The trend for fitted kitchen and living area furniture will undoubtedly increase as consumers are seeing this as a true progression of open plan living, and often value the ability to make one large space work seamlessly together, whilst still having well defined zones and areas that serve different purposes.