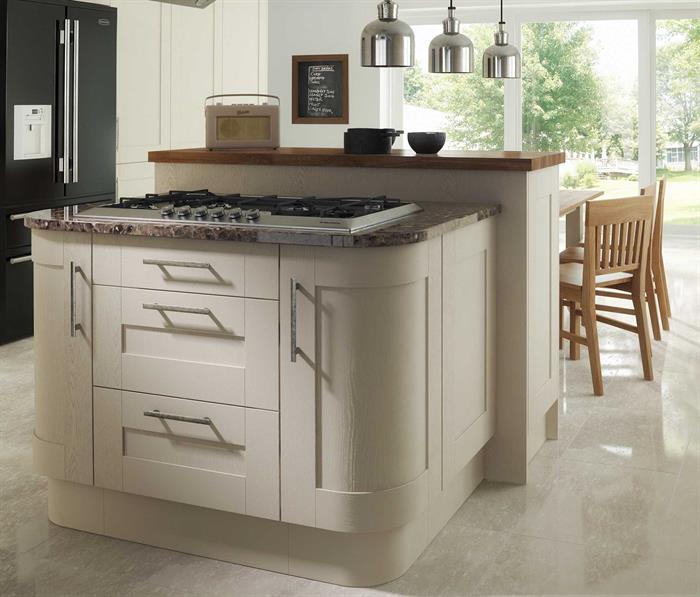 Curved kitchen carcasses help to soften the overall appearance of any kitchen design as they are pleasing to the eye and allow it to move around the space in a more fluid and comfortable manner. The demand for curved kitchen furniture has increased in recent years, in part thanks to improved manufacturing processes bringing costs down considerably, and also thanks to increased demand for a more natural look from consumers.
The curved appearance helps to compliment natural styles such as painted oak effect kitchen doors and wood grain effects, but similarly, yet somewhat surprisingly for many, also lends itself well to more contemporary looks such as high gloss units and clear, handle-less design.
An underlying driver to the success of curved furniture has to be the increase in open plan living. With one room merging into the next and being much more open, consumers have often found the traditional square edged kitchen a little impractical, and not as aesthetically pleasing as required for an otherwise streamlined look and feel.
By introducing curves, the eye is drawn from one area to the next effortlessly, giving the feeling of a much more open space, and one which flows and merges seamlessly, ensuring the rooms have a certain coherence with each other.
Curves also offer benefits in terms of safety, something that is key to family buyers. By removing potentially dangerous right angled edges and replacing them with curves, parents can be more confident that their children are less likely to have a nasty accident by hitting themselves on a sharp edge if they were to fall over.
Worktops have also developed considerably, and now offer some outstanding laminate and composite options that can be curved and shaped to your own kitchen design without any compromise. These can be used for breakfast bars and centre islands too, meaning you can complete the look of your kitchen without the need to install natural stone every time.
The future for curved looks promising as we see demand rise, and I have to say, the finished visual does work perfectly with most modern homes and kitchen refurbishments.
With other kitchen items catching up with the trends too, we're now seeing some stunning new products such as curved kitchen islands, kitchen furniture, sinks and other fixtures and fittings, all of which will help to support and develop an already popular segment of the market.
Related Items