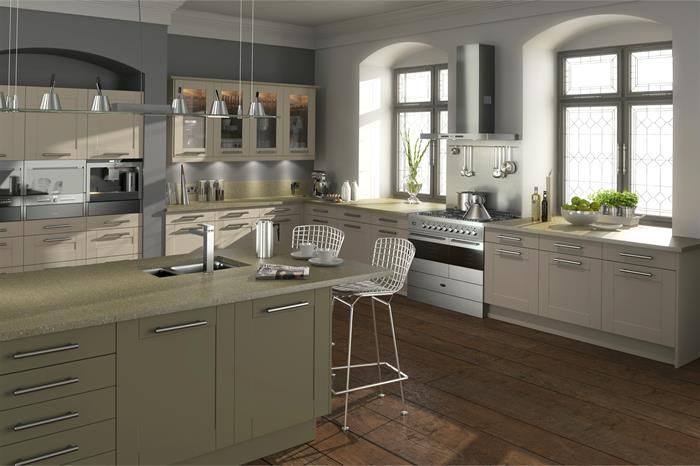 We've seen a boom over the last year in consumer demand for a more natural, country style look through the use of painted oak effect doors and wood grain textured finishes, but one thing consumers aren't looking to do is compromise on the integrity of the design, and it's links back to the traditional style, but with a more modern flavour.
Modern country style is quite different to what it used to be, as consumers are now creating streamlined, sophisticated kitchens which have the characteristics and rustic charm of a country style kitchen, but with all the modern conveniences, detail and material specs to make it something truly amazing.
The heart of any country style kitchen from the past has to be the traditional country dresser, but modern tastes are seeing this become re-invented, and I have to say some of the results are outstanding.
The first and most important element seems to be that country dressers are now becoming a much more integral part of the kitchen design as we see them being made up of the same materials and accessories as the main kitchen units themselves. This helps to achieve a fluid design, and adds a feeling of quality and substance to the overall effect of the design.
We also often see kitchen dressers being integrated into the run of units themselves as opposed to the traditional freestanding dressers, which again harp back to the olden days of traditional country style.
For those aiming to achieve this more rustic, traditional look, there are some great ideas out in the market too. We've seen some of our installers take a couple of old country dressers (distressed and beaten to say the least), cut them down, re-purpose them slightly, and turn them into the most magnificent centre islands with a matching worktop to compliment the rest of the kitchen design. This is a great way of re-using existing materials, whilst also making a fairly substantial design statement with something that can't really be bought anywhere else.
The traditional Irish dresser is probably the most popular design for consumers at this moment in time, and adds a feeling of elegance to any room. Key to the design is the distinctive plate rack and cupboard storage, both of which add a level of practicality whilst maintaining a strong visual appeal.
Consumers have started to create some variation in this design however to better cater to modern living. This is often achieve by using additional drawers which are perfect for storing away smaller items that would otherwise clutter the look of the kitchen, and glass doors which can be back-lit to enhance and showcase the contents of the cabinet.
If you're thinking of installing a kitchen dresser in your next kitchen install, why not talk to us about ideas of how best to create something that's unique, stunning and practical. We've got some fantastic products that are perfect for the country style look, from board and doors, right down to the handles, lighting and fittings that are needed.
Related Items