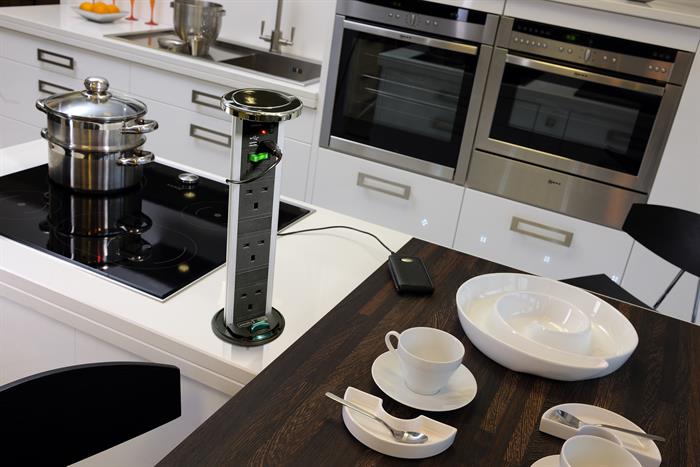 With consumer tastes leaning towards modern, contemporary, and minimal kitchen design, it goes without saying that integrated appliances have become a must have item when planning a new kitchen.
One of the main reasons for this shift in consumer tastes seems to be down to the boom in open plan living. With consumers opening their living rooms and dining rooms up into their kitchens, a cleaner and more appealing look is required, and one that is more conjunctive to entertaining guests.
There are also benefits when cleaning and maintaining the kitchen. Integrated appliances remove the awkward gaps that often appear between cupboards and appliances, a perfect spot for dust and debris to build up, making it hard to keep clean. Integrated appliances remove this problem, and eliminate those awkward and hard to reach parts of the kitchen.
Appliances are often cleverly tucked away in a centre island behind a high quality made kitchen door to ensure the look of the kitchen in streamlined and seamless, whilst still providing all the access needed to ensure the kitchen is functional and usable.
Integrated appliances were once seen more commonly in luxury kitchens than that in the wider market, but as popularity has increased, the price of such items has decreased, making it more accessible to the wider market.
Typical appliances such as washing machines, ovens, tumble dryers and dish washers are all easily integrated, but recent innovations in design have also seen items such as plug sockets, phone chargers and extractor fans being integrated into the worktops and cabinets, giving an even cleaner, more streamlined look than ever before.
One of the key considerations for your next kitchen project if integrated appliances are on the project spec sheet is to source the right door, hinges and fittings to ensure everything works seamlessly together.
We believe integrated appliances are now an integral part of kitchen design for most consumers, designers and installers, and a trend which is set to stay strong and develop even further for many years to come.
Related Items