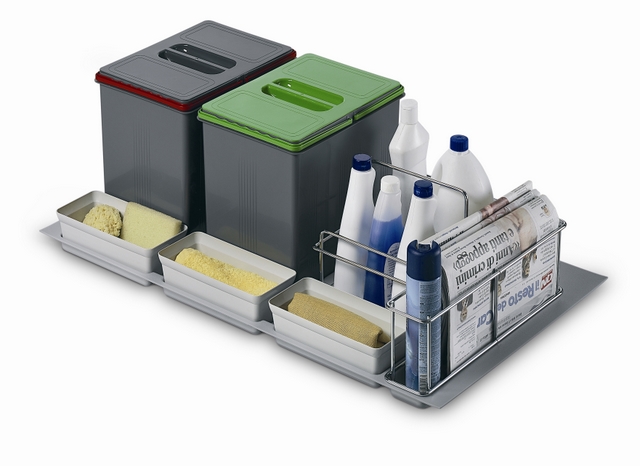 Everyone wants to play their part in helping the environment by recycling more, but with bins for plastics, cardboard, food and general rubbish becoming the norm, most kitchens are starting to be overrun with empty cartons, cans and bottles, just waiting to be taken outside ready for collection.
Whilst it's no great difficulty in leaving a few tins on the side for recycling, most consumers don't want the look of their newly designed and professionally fitted kitchen to be ruined by unsightly cans and cardboard, especially if they're planning on entertaining guests, so we thought we'd give you a run down on a few handy waste bin solutions that might just keep that kitchen looking as great in use as it did when it was first completed.
If you've got a bit of spare drawer space in your kitchen, there are bin combinations available that simply sit within a deep drawer unit, which has separate bins for bottles and cans, cardboard, and food waste. To help keep things clean and tidy, the units come with handy removable trays which can store cleaning cloths and detergents to help keep things smelling clean and fresh.
There are also door units available that come on a wirework platform. These offer the same benefit as the drawer units, but often provide a little more room for storing recycling, cutting down on the number of trips to the main bins outside.
Whichever solution you choose, you're bound to find your worktops look less cluttered and cleaner than if you didn't have them. To see a full range of bins for recycling in your kitchen, click here.
Related Items