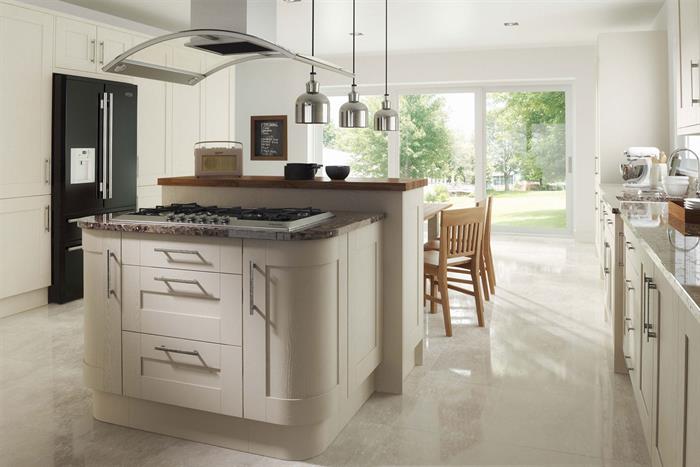 Worktops are a paramount part of any kitchen design and layout. They not only offer a practical function for the end user, but have significant aesthetic value that can often complete the overall kitchen design perfectly. When chosen poorly however, the wrong worktop in the wrong setting can often detract dramatically from the desired outcome or effect, so it's key to ensure the selection of the right worktop for the job.
With curved cabinetry becoming much more popular in recent years, worktops are becoming much more curved too, and with this new trend we are seeing the wider use of more interesting edge profiles such as shark nose profiles, waterfall profiles and everything in between.
Solid stone and many composite worktops are offered in a wide range of these profiles and can add value to the design when carried out properly, as well as adding a feeling of luxury and quality.
The use of the right profile with the right worktop choice adds an extra element that shows the process has been thoroughly thought through by the designer, and well executed by the installer.
But using the right profile for the right design and material is key.
The use of the well loved and more traditional ogee profile is commonly used with premium marble in traditional country style kitchens, a perfect combination most would agree, whereas the sleek sharks nose profile often lends itself better to more contemporary, curved kitchen designs.
The use of break-fronted furniture, integrated seamlessly with a solid stone, wooden or composite worktop adds a real feature to the kitchen space and allows for that portion of the kitchen to be a feature in its own right.
Combining worktop materials is also becoming a very popular choice for many consumers, which often sees more durable, easily maintainable materials such as granite, laminate or composites within the main work areas, and then more tactile materials such as oak or timber worktops in the breakfast bar, centre island or counter areas.
This combination of materials helps to create not only clearly defined zones within the kitchen space, but also design features that are pleasing to the eye too, adding value to the finished kitchen design.
If you're unsure of which combinations work best and what's possible, why not pop into one of our trade counters to see what's available and get some impartial advice on what might work well for your next project.