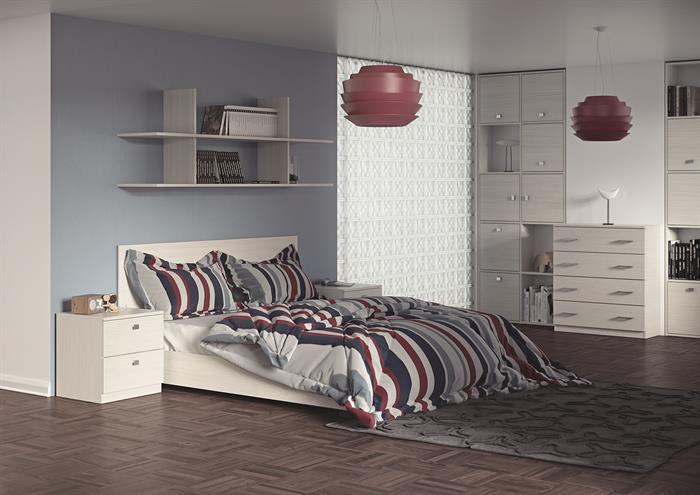 With bedrooms becoming a more important space within modern living, consumers are wanting to inject more colour, personality and interesting materials into their place of slumber, generating an environment that is warm, relaxing and able to serve multiple purposes, such as rest, leisure, work and much more.
With this in mind, we're finding that the bedroom trends of 2015 are looking equally as vast and varied as those ever changing consumer needs.
2014 saw a bit of a battle going on between contemporary and vintage styles, but this year we are seeing that the two can work seamlessly together, in a way that enhances the finished bedroom design and creates a stunning, unique space.
This integration of two styles strongly reflects the diversity of modern day living.
Take a neutral looking bedroom of 2013 for example; likely to comprise of safer colour schemes and flatter textures and materials, this still works well for some, but it may be lacking in personality, character and depth for others.
Those who are interested in staying current and in line with existing trends are more likely to want to create a fashion statement with the use of bolder materials, textures, colours and combinations of materials.
One way of achieving the perfect mix this year would be to incorporate innovative and highly textured materials such as the XyloCleaf range of boards, which offer interesting colours, patterns and textures that are tactile to the touch and very unique in their appearance.
This popular look tends to work well when mixed with both vintage style and clean-cut lines, incorporating bright glossy colours many might not think to usually include with a more vintage, timeless theme.
There are a variety of ways to inject some personality and colour successfully; whether this is done through vibrant wall décor, vinyl wrapped furnishings, sleek door panels, stylish handles, panelled walls or simple room accessories and soft furnishings.
Another trend to consider which has a cross over with vintage is the shabby chic look.
With its rustic feel, natural wood finishes that have a distressed or highly textured pattern easily compliment the whole shabby chic theme. Again, you don't have to commit wholly to a nature-centric style here as this design also works well with sparkling ornate light fittings and basic decoration such as floral or patterned wall décor. There is something very current about a bedroom that hosts a contrast between extravagance and nature.
Whilst your customer may want to achieve that timeless antique appearance, it's still paramount to integrate some modern luxuries to keep things practical and usable too.
With the hectic lifestyles of most British people, there is a growing need for organisation in the bedroom so that it can remain a relaxing and well-organised retreat.
This can be easily achieved with a behind the scenes storage system. For example, you could construct a wealth of contemporary wardrobe wirework but hide it behind visually pleasing door panels; complete with any combination of door handles to uphold the look your customer wants.
For more information and advice about our bedroom products, why not call in to our trade counter or check out our range online.