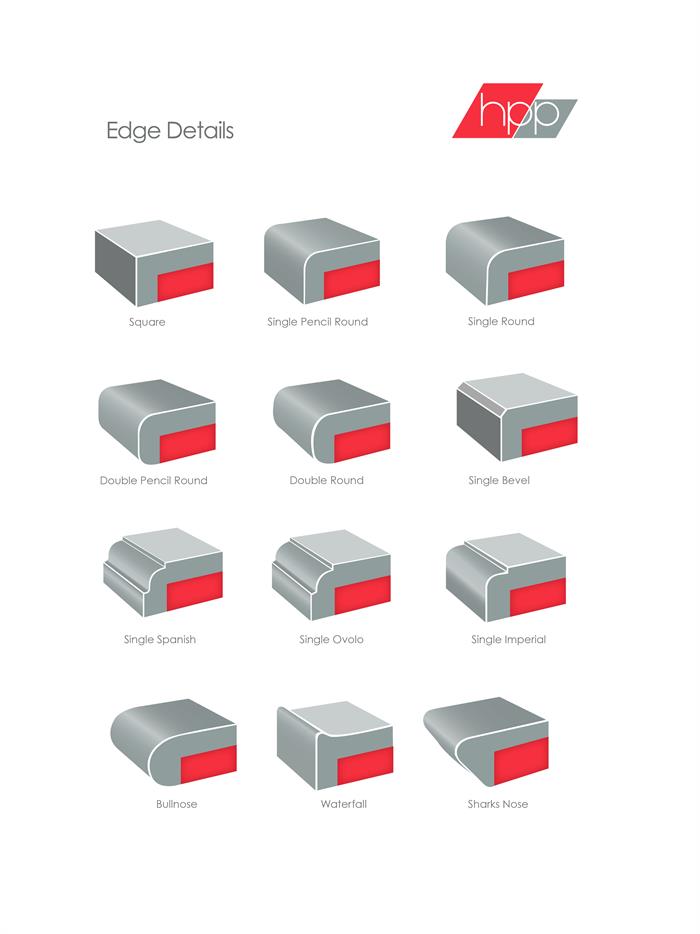 It's quite often thought that worktops come in only a few edge details, usually square edged or rounded edge, but the truth of the matter is that there are many options available, which can add that little extra design detail to your next kitchen project.
Depending on the worktop being chosen, you may have well over ten or fifteen options to choose from, so we thought we'd explain a few of these in more depth to show what's available, and what might work with a certain style for your next kitchen design or installation.
Square Edge - Quite popular with wooden worktops, the square edge option gives a solid look and feel, with clean and simple lines to suit almost any kitchen design. The style is also suitable for stone and composite worktops, where quite often a very subtle chamfer will be created to provide better durability for the worktop.
Pencil Round - Pencil round is a very popular option for most kitchen worktops and is one of the most widely used styles currently on the market. This style is quite often referred to as quarter round or double quarter round and is clean in its appearance and not overly fussy, leaving the rest of the kitchen and materials to do the hard work.
Bull Nose - The bullnose, or rounded edge design is considerably more rounded than pencil round for example, and is rounded on either just the top edge or both top and bottom edges. The rounding over is usually around 25mm+ and creates almost a complete curve when used at the top and bottom of the worktop. Bullnose worktops are perfect for use on curved cabinets as they help create a more fluid design with softer edges, resulting in a look that runs seamlessly around the kitchen space.
Chamfered Edge - Chamfered edge worktops use a small bevel to either the top side or the top and bottom sides of the worktop to produce a sleek timeless look and feel that sits comfortably in both contemporary and traditional kitchen designs. The chamfered edge also adds a level of practicality due to the removal of sharp edges, which are often otherwise prone to chipping and day-to-day damage.
Ogee Bullnose - The ogee bullnose is quite a premium and classical look that offers chunky curved edges with a good level of detail to ensure the worktop makes an impression and acts as a design feature in its own right. The Ogee Bullnose is most popular in natural stone worktops.
Sharks Nose - The sharks nose edge detail offers a sleek rounded look that sees the underside of the worktop recess towards the cabinet to provide a striking overhang effect at the edge of the worktops. Sharks nose edge detail is quite often popular in granite and composite worktops and is becoming more widely used by the trade.
Single Imperial - Single imperial offers a subtle rebate above a half round-over to create a smooth and subtle edge detail to worktops that works well in both modern and traditional kitchen designs. The single imperial helps add a feeling of quality to the worktop design whilst not being so detailed that it detracts from the rest of the kitchen.
Waterfall - Less commonly used than many of the styles discussed above, the waterfall effect creates a subtle lip on the top edge of each worktop that is pleasing to the eye and works well with both modern and traditional designs.
Single Spanish - A timeless look that is well suited to more traditional and classical kitchen design, the single Spanish is a good option for those looking for detailed edging that adds a feature and element of craftsmanship to the overall design.
Single Ovolo - Very similar in style to the single Spanish edge detail, Single Ovolo is great for more traditional kitchen designs where softer, more subtle edges are required.