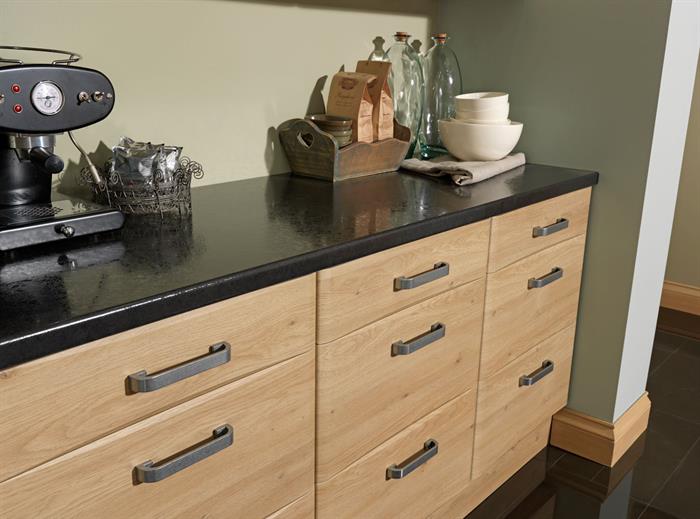 There's no doubt that people love natural stones such as granite or marble, but not everyone has an infinite budget and quite often a more cost effective solution is more suitable as it allows your customers to change the look of their kitchen more often without wasting very expensive items every time.
Wooden worktops are another popular item at the moment as consumers lean more towards the cosy, warmer tones in cabinetry, but again, these can often be expensive and not the easiest to maintain if you have a busy lifestyle.
So what's the answer?..... Laminate
Laminate worktops have come a long way in recent years, and can now offer a stunning range of styles, finishes and even textures to suit individual needs. Laminates are available in granite effect, wood effect and many other natural materials, and these days look much more realistic than you might think.
Texture is becoming big for laminate too and adds a sense of luxury and uniqueness.
Textured laminate worktops are very practical, easy to clean and wipe down, and don't cost the earth to buy. They're also much easier to fit and quicker to maintain, which is perfect for people with busy lifestyles or a family.
Another great thing about laminated worktops is that there are options to suit almost any budget. Our Fusion Laminate worktops for example are a superb and durable kitchen worktop product that caters to the standard price ranges expected for laminate worktops. These come in two thicknesses (28mm and 38mm) and are available in a wide variety of sizes, styles and finishes.
For those looking for something a little bit more premium, but still at a reasonable price, the Fusion Synergii range is a great option. With 38mm thick worktops being the norm, and a wide variety of finishes from black pearl, granite effect, marble effect, riverstone, wood block effects and 'Fizzy Beton' which provides a little sparkle, consumers are sure to find the right product for their requirements, and one that really looks and feels the part too!
The beauty of laminated worktops is that they are also perfect for heavy use areas, such as breakfast bars and centre islands, and can take the strain that everyday living often puts on kitchen worktops.
If you're in need of a little worktop inspiration, why not view our worktops online or visit our trade counter to see sample packs, which are also available to buy for demonstration purposes.