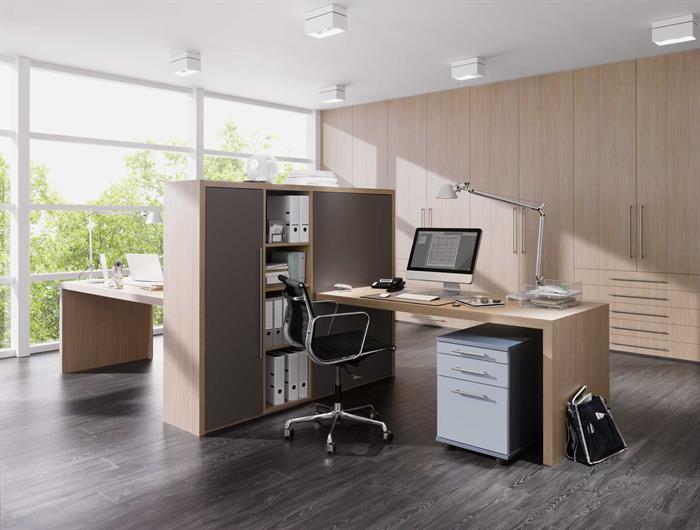 Creating a home office is becoming much more popular in the UK as we are seeing more people working from their homes either full time or after the normal working day, so it goes without saying that demand for something a little more than a desk placed in the middle of a spare room is increasing, so we thought we'd go through a few helpful ideas to find the right spec for your next customer.
The home office comes in many shapes and sizes and can be found in the most surprising of places, from under-stairs cupboards, to hidden walk-in offices situated off a bedroom, practically anything is possible, and design ideas and styles can be injected into the finished furniture quickly and easily to meet the most demanding of consumer requirements. We find that with the right design, a space that seems totally un-suitable can be tailored to perfectly meet the consumer's requirements, and often exceed their expectations too.
The first step is to understand how the space is to be used. Is the office playing a practical role in simply being a small space for catching up on emails, or is it serving a greater purpose, possibly a place to meet clients out of hours. The way the work zones will be used is key too - we've found that by analysing the files, folders, in-trays and computing habits of the end user pays dividends in the long-run as it means the space can be totally tailored to them and the way they work, so if they're constantly getting up to grab files from a cupboard across the room, bring that closer to them in the new design so they don't waste time going back and forth.
The use of unique boards and decors is a great way to really make an impression with the home office too, just because it's a functional space doesn't mean it needs to look that way. The use of wood grained boards with texture and different finishes can set a unique ambiance in the office, and one that can compliment that person's personality and their home.
Try to also integrate clever storage ideas where possible. We've seen a few of our customers do innovative things with their designs, such as integrating a full computer screen into an electrically lifted mechanism, which hides it within the desk when not in use, but reveals it at the touch of a button. Whilst this option is quite elaborate, there are other simpler things that can make a huge difference, such as installing the right type of drawers, hinges that open out wider to provide better access in tighter spaces, or using wirework solutions for stationery, computer towers and larger, heavier files.
The other thing to remember is that people need to enjoy being in the space they're working in, so consider other elements such as Audio / Visual. Integrated TV's and sound systems are becoming a top seller to the higher end of the home office market, along with different lighting schemes to suit different moods and times of the day or year.
The possibilities for the home office design are endless, from the board and fixings that make up the general theme, to the finer details such as lighting, technology and handles which embellish the design; anyone can achieve the exact home office look and feel they want, and quite often within the budget they've got available.