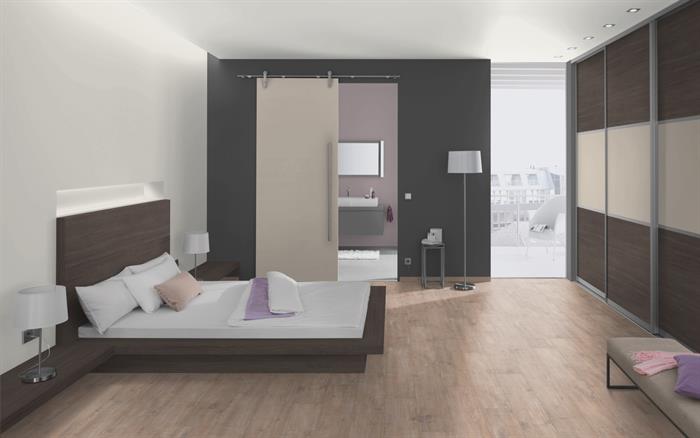 Creating the perfect bedroom design can be tricky as consumers' tastes vary wildly along with their room sizes, shapes, and overall budget, all of which can often dictate the finished design, materials and specification of the bedroom.
After recently speaking to a customer who had been asked to create a hotel style bedroom, we thought it was a topic worth covering to provide some ideas and tips on how best to achieve the utmost in luxury hotel experience at home.
The first port of call is without doubt materials.
The most luxurious of hotels use different materials, textures and design schemes to create a true feeling of luxury, quality and interest.
By selecting a range of complimentary, high quality and tactile materials, a theme, mood and atmosphere can be set. The colours chosen can also affect the end finish too, so make sure to use deep, luxurious colours that opitimise luxury and opulence.
With your colour scheme and textures in place, lighting and technology is an absolute must. The use of mood lighting for a relaxing evening, as well as bright, vibrant lighting for those dark winter mornings help the room provide not only luxury when needed, but a more practical side for everyday living too.
Entertainment (AV) is becoming the norm in luxury hotels at present, so integrating this into the bedroom design is a great idea and offers a great way for consumers to relax and unwind in their new luxurious sanctuary. Consider an integrated sound system that tucks away neatly within the furniture build, and maybe a concealed TV screen or projector for watching TV or films.
Zone planning plays a key part in the process too, so make sure zones are clearly defined and obvious; from a space for sitting and reading, to eating Sunday breakfast and everything in between, making sure there are zones to satisfy your customers needs can make all the difference.
To add a real touch of luxury, consider adding items such as walk-in wardrobes, a four-poster bed and even consider including a bath-tub or sofa in the room (if space allows) to give it that real air of quality and indulgence.
The finishing touches to a room (although often outside many of our customers remit) can also build on and enhance the finished effect, so consider offering advice to customers on their supporting light fittings, decoration and soft furnishings, as these will complete the look and ensure the hard work carried out in perfecting the furniture and general bedroom design doesn't go un-noticed due to none-complimentary items elsewhere in the room.