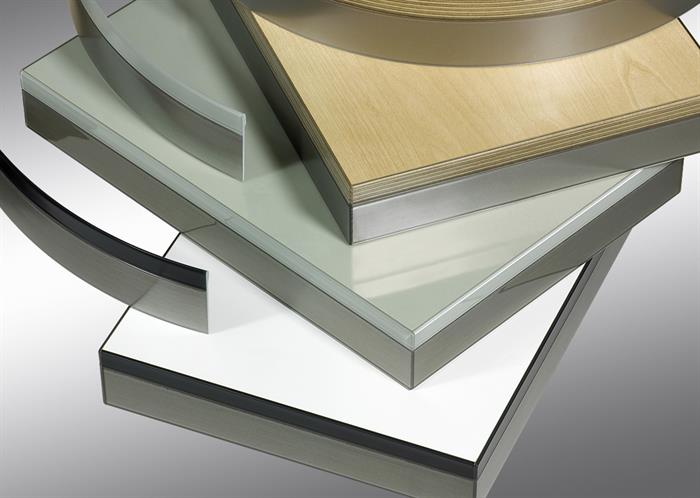 Edge banding for panel products and doors adds not only a functional aspect to the door in terms of durability and protection from moisture and scratching, but also provides a beneficial aesthetic quality which can often be used to compliment the design of any kitchen or bedroom furniture piece.
Wherever edge banding is being used, it offers highly durable results that furniture makers throughout the UK can rely on. Whether it's being used for a piece of furniture for a home office, kitchen, bedroom or bathroom, there are multiple options available that can suit almost any type of application, so we thought we'd provide a quick overview of some of the materials available, and how they can be used to achieve a quality finished product.
The most popular types of edge banding tend to be PVC, ABS or melamine edge banding. These are all suitable for common household applications such as kitchens, bedrooms and bathrooms, but offer different levels of quality, durability and price points.
PVC Edge Banding
Probably the most popular type of edge banding, PVC edge banding is a highly durable option for sealing the exposed edges of boards that have been sawn to specific dimensions for custom furniture installation. It can also be used for either straight or curved applications, meaning it is highly versatile and suitable for a number of uses.
PVC edge banding is available in a number of colours, styles and sizes, all of which suit the wide range of board and doors available from HPP. Differing thicknesses are available for most ranges too, allowing a different design and aesthetic to be achieved depending on personal preference. Common thicknesses start from 1mm and work up to 2 and 3mm options also.
Melamine Edge Banding
Still a popular option, mainly due to its cost effective nature and ease of application, melamine edging is available for a wide range of board and panel styles. Whilst less durable than PVC edging, melamine is perfect for less heavy duty applications such as home offices or bedroom furniture where usage is infrequent and budgets are more constrained. A wide range of sizes, colours and finishes are available, and many can be simply heat applied to the sawn edges of melamine board leaving a clean, neat and tidy finished appearance.
ABS Edge Banding
ABS Edge banding is also ideal for a wide number of applications including kitchen applications where exposure to heat for sustained periods is likely. The product is resistant to heat and very flexible, meaning it can be used very close to hot ovens and hobs without distorting or peeling. It's flexibility means it can also be easily used for curves or custom shapes within any furniture design, making it a useful tool for intricate one-off furniture projects.
The product is also popular as it is eco-friendly and easily disposed of, meaning its impact on the environment is typically less than other equivelent products on the market. It is also robust enough for many commercial applications such as toilet cubicles, shop fit-out and retail displays.
Like the other types of edge banding, the ABS range is available in a wide variety of colours, sizes and formats, meaning you're sure to find the right product for your furniture design.
If you need advice on which type of edge banding is most suitable for your project, why not get in touch with one of our product experts who will be happy to help.