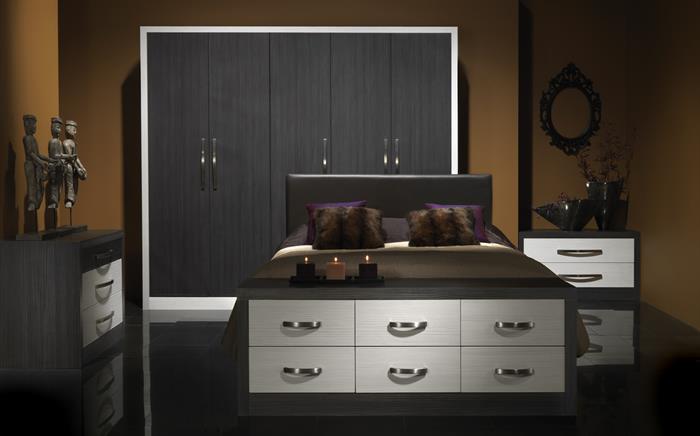 Great design quite often adds a 'wow factor', making people look twice to admire what's been created, and a great way of achieving this, providing your customers have the space is to create a very large statement with oversized bedroom furniture.
Creating a truly enormous piece of bedroom furniture helps to add an instant feeling of comfort, opulence and luxury, which after all, is what many consumers are demanding from their fitted bedroom furniture these days.
One obvious area to do this is through a bespoke, and very large bed. Quite often we see the bed being forgotten in bedroom furniture projects, but this can be a key component in creating a truly amazing design statement.
By creating something bespoke and unique, and preferably oversized, the bed can play a critical part as a centrepiece to the overall design, adding style, substance and a great visual impact, whilst complimenting the surround bedroom furniture, fixtures and fittings.
If your customer can't stretch to the full bed, consider designing an item such as an oversized headboard which is a great way to make the most of the space available, whilst emphasising the bed itself and making it the focal point of the room.
This could be anything from a chic paneled headboard to match the rest of the bespoke bedroom furniture, or potentially a luxurious upholstered piece that matches the soft furnishings instead.
This idea of making it big can be transferred into other areas too. Items such as large and extravagant walk-in dressing rooms are becoming very popular, which play not only a functional role, but add an air of luxury and quality to the bedroom design.
Fitted furniture, such as wardrobes and storage units are without doubt a staple for this market too, meaning that demand for larger, more luxurious styles and finishes are increasing, with most consumers now wanting floor to ceiling units with slick paneled doors and high quality hinges and accessories.
Demand in recent months for precision embossed materials has soared also, with the higher-end market demanding finely crafted fitted furniture, which is large and quite often clever in its approach, concealing audio visual units and everyday items such as toothbrush chargers, laptops, phone chargers and even mini home offices.
With people on average spending around one third of their life in bed, it's key to make the space not only functional, but a space to really relax and unwind in. Through the use of well-designed and well thought through oversized furniture, consumers are able to feel at home, be totally relaxed and immersed in true luxury without the need to ever leave the comfort of their own bedroom.