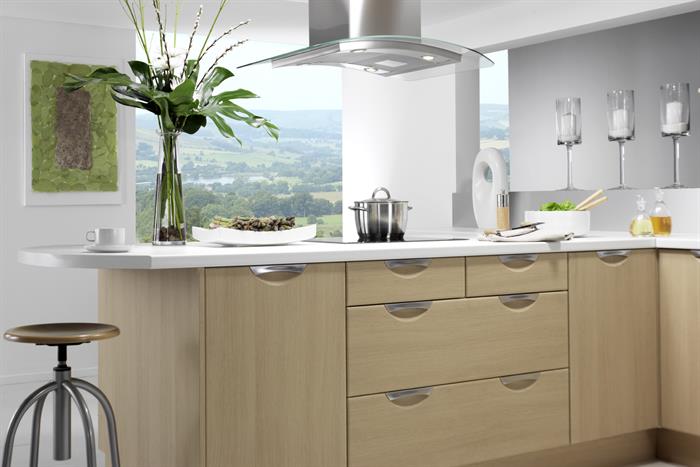 With demand for gloss being so high, and with some believing that area of the market to be quite saturated, consumers have begun to demand something a little different, which has brought about the rise of matt kitchens. The matt look has been steadily rising since 2012 and looks like it will continue to increase in 2014 too.
Whilst gloss still out-sells matt by a long way, it is picking up pace, slowly becoming a more sought after finish for new kitchen designs and installations. We're seeing a shift in consumer demand for warmer colours and more tactile textures, and this new trend is to a certain extent, supporting matt finishes well, as consumers get a more tactile experience and achieve a warmer more muted and homely look through the clever use of matt finishes in kitchens.
The beauty of matt effects in kitchen design is that it lends itself well to both modern and more traditional kitchens, offering a softer more subtle approach. The finish can be used on sharp edged, contemporary handle-less units with mixed décors, whilst it looks just as at home in classic and traditional styles too.
With the new matt finish being a fairly versatile option, and due to it being more unique right now than high gloss, it's a trend that we believe will slowly rise to satisfy a market demand that will continue to significantly increase over time.
Supply of matt finishes and textures in other markets is on the rise too. We're seeing launches from the likes of paint manufacturers and furniture producers of specialist, more unique matt finishes that can only help to compliment, and also drive demand for matt finishes in other areas of the home.
Whether it will over-take high gloss however still remains to be seen, and our belief is that consumers should buy what really suits their own tastes and preferences rather than buying something that is the trend right now - after all, they're going to have to live with the finish for some time, so best to go for what they want, rather than what they think they should buy.