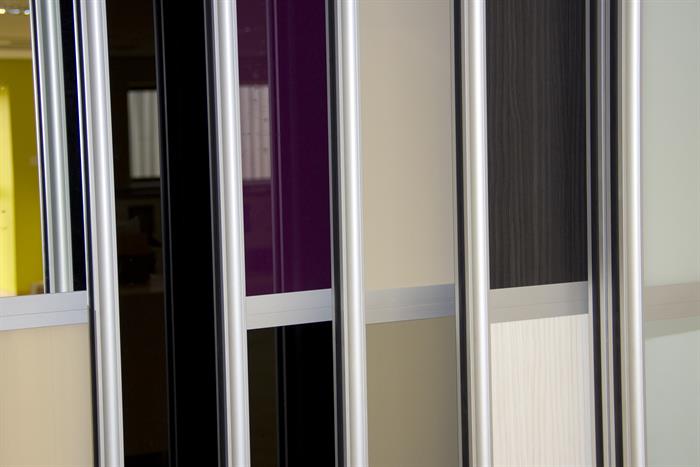 Glass and mirrors can be used to make a great design statement for any kitchen or bedroom project, or on a more practical note, can also be incorporated into a design to help reflect light around the space, making it seem larger and more spacious.
Insets aren't new to the KBB market, but with advances in materials and technology, the ways in which they can be integrated into a kitchen or bedroom design is becoming more innovative and design focused.
There are now literally hundreds of variations available on the market, from highly polished coloured glass panels, right through to subtle frosted panes that elegantly mask the contents of the cupboard or wardrobe it covers.
Mirrored insets can also provide a very practical solution in smaller bedrooms where wall space is at a premium, as it allows for the door to double up as a mirror, whilst helping to bounce light around, making it a more pleasant place to be.
Glass and mirrored insets can be finished in a number of ways, such as beveled edges, engraved detailing on the panel itself or simply inserted within the stile of the door to provide a clean, square edge.
They are becoming increasingly popular for bedrooms due to how easily they can be integrated into sliding doors, which are more space efficient, quicker, easier and cheaper to install than traditional carcass and door combinations, which tend to be more labour and material intensive.
Kitchen door designs can also be enhanced through the use of glass and mirrors, and offer the same benefits to that of bedroom designs. Many kitchen designers opt to add subtle back-lighting within the cabinet, which helps to showcase the contents of the cupboard through the glass inset, or provide a soft ambient glow when used with frosted or coloured glass.
If you're thinking of incorporating glass or mirrors into your next bedroom or kitchen project, why not call into our trade counter to see what options are available, or call us on 0161 628 6100.