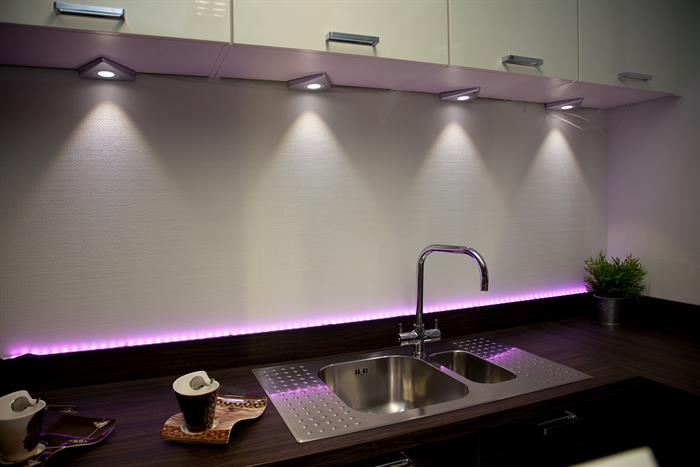 Whatever the mood of your kitchen, it's important to make sure your lighting is planned well in advance of any work, and that it sets the right atmosphere for you or your customer.
When discussing lighting, we often talk about three distinct areas; these are task lighting, ambient lighting and mood lighting.
Task lighting should be addressed as a first port of call, and includes lights that are bright and don't cast shadows when being used to prepare food. For this reason, it's critical to ensure you've got well-planned ceiling and under-cabinet lighting that provides an abundance of light to work surfaces, hobs and sinks.
Some of our most popular products are our white LED recessed spotlights for ceilings, coupled with some sleek, ultra slim fluorescent tubes for under cabinets. If you'd rather not have a pelmet on your cabinets, there's always the option to go surface mounted with your lighting instead. These are available in a number of shapes and sizes, and offer stylish and sleek designs that complement any kitchen design and layout.
For those wanting to create an additional wow factor with their kitchen design, we have a range of lighting that helps to create the perfect ambient or mood lighting for a wide range of requirements.
LED strip lights and recessed plinth lights provide subtle back-lighting to areas such as plinths, cabinet tops and centre islands, which look great when being used as a standalone, and also when being used in conjunction with primary task lighting and mood lighting.
If you're wanting to set more of a mood in a kitchen, we also supply colour changing LED lights that can be mounted almost anywhere. Colours can be changed remotely to help create the perfect atmosphere. Colour changing LED lights are available in a number of different sizes, and can fill the smallest and largest areas of a kitchen effortlessly.
Our entire lighting range is on display in our newly refurbished trade counter, and is also available to view online at www.hpponline.co.uk and in our latest product brochure.
We've helped hundreds of customers with their lighting designs over the years, and are always on hand to provide you with tips and advice, as well as keeping you up to date on all of our latest products and innovations. If you need advice on your lighting requirements, call into our trade counter or call us on 0161 628 6100
Related Items